EOTAC Introduces New Men's Operator Grade Mechanic Shirt

WEST COLUMBIA, S.C. – -(AmmoLand.com)- EOTAC, makers of the highest quality tactical and discreet garments available to operators, announces the addition of the new Operator Grade Mechanic Short-Sleeve Shirt to its line of discreet clothing.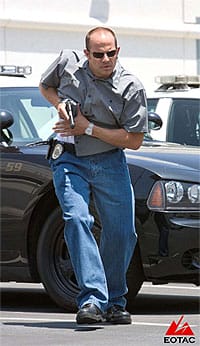 Practical and discreet for everyday use, the EOTAC Mechanic shirt is styled after the popular mechanic shirts worn by industry professionals making it low profile yet totally functional. Included with each Mechanic shirt are four different sew-on patches to help complete the workforce look.
The Mechanic shirt is made from a preshrunk and pre-washed lightweight 5.5oz all-cotton poplin that has been treated with DuPont Teflon Fabric Protector. This combination not only makes the shirt extremely comfortable to wear but also resistant to stains and fading.
The Mechanic shirt is meant to be worn untucked and features a straight bottom hem with side vents. It drapes freely, offering maximum concealment without printing. The two lower front buttons are false, disguising a hook & loop closure for easier, faster access. This feature makes accessing a holstered handgun or spare magazine both rapid and smooth by either pulling or sweeping the shirt away.
"Our goal with the new Mechanic shirt was to give customers a truly contemporary design that was lightweight and comfortable for wearing during the warm weather periods but also packed with features that today's CCW holder is looking for," said Fernando Coelho, president of EOTAC.
The Men's Operator Grade Mechanic Short-Sleeve Shirt is available now and comes in three colors, Black, Grey or Navy. The retail price is $54.99 for sizes small to 2XL and $59.99 for size 3XL.
For more information on the EOTAC line of tactical and discreet garments contact EOTAC directly at (803) 744-9930, visit an EOTAC dealer or order online at www.eotac.com.
Features:
5.5 oz. All-Cotton Poplin
Machine Washable and Fade Resistant
Preshrunk & Washed
DuPont Teflon Fabric Protector
Proprietary Tacti-Fit Sizing System
Convertible Collar
Button-Through Chest Pockets
Hook-and-loop Hidden Front Closure
Straight Cut Bottom w/ Side Vents
Assorted Sew-On Patches
Colors: Black, Grey, Navy
Sizing: Small – 3XL
MSRP: S-2XL $54.99, 3XL $59.99
About EOTAC
EOTAC taps decades of real world military, law enforcement, and private sector experience to produce the highest quality tactical and discreet garments available to operators today. Offering both traditional and next gen tactical clothing, EOTAC designs innovate without sacrificing utility or comfort. Leveraging outdoor industry experience and end user feedback, EOTAC continually refines the capabilities of its product line maintaining a high level of excellence in every garment offered.