Gunslick Gun Care Cleaning Products Brand Evolves with PRO Positioning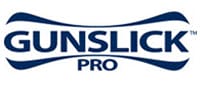 ONALASKA, Wis. –-(AmmoLand.com)- Gunslick®, known for its specialized gun cleaning solutions and easy-to-use tools, is adding "Pro" to its name, packaging and marketing materials to better reflect the true strength and consumer perception of the brand.
This running change will be accompanied by exciting new products and seen on shelf beginning spring of 2009.
New positioning plays to product strength
Shooters and hunters seeking gun cleaning equipment will notice an updated logo, packaging and advertising from Gunslick Pro in the coming year. The product line will continue to feature advanced chemicals and precision gun care tools that help improve firearm accuracy and overall function—the true strength of the product line.
Feedback from the field drove update
According to Brand Manger Raluca Simian, the brand update was driven by input from the industry: "Since we strategically placed Gunslick on its own in the marketplace four years ago we've learned a lot from the field. We take input from our sales force and customers seriously and what we heard from them is that Gunslick is the brand customers turn to for their precision gun care needs."
Chemicals prove superior in testing
According to independent lab testing performed at Petro-Lubricant Testing Laboratories, Inc. in Lafayette, NJ, Gunslick Pro chemicals Gun-Foam, Gun-Seal and Ultra-Lube™ outperformed the competition in corrosion protection and wear resistance when subjected to the harshest testing conditions.
For full result charts, visit Compeitive Testing Charts.
New product highlights for 2009
• Precision Oiler—a precision application tool for getting Ultra-Lube gun oil in tough, hard to reach places
• Ultra Cleaning Kit for 22-caliber—proven chemicals with tools designed specifically for 22-caliber firearms
• Handgun Carbon Fiber Cleaning Rod—an 8-inch high-quality cleaning rod designed for handgun use
For more information, visit www.gunslick.com
About:
Gunslick products are designed for serious shooters who demand a thorough clean for precision performance. The company offers the most advanced, non-toxic cleaning chemicals proven to be superior through third party testing. Gunslick also features a full line of advanced cleaning kits and components. For more information, visit www.gunslick.com.