NRA's Past President Takes Action
Urges Senators 'not to confirm Judge Sotomayor'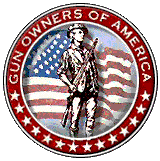 Springfield, VA – -(AmmoLand.com)- Last week we told you how NRA's Past President Sandy Froman was calling on all NRA members to vigorously oppose the nomination of Judge Sotomayor to the Supreme Court. She did this in response to the "wait and see" approach that the NRA's upper management has taken in regard to the Sotomayor nomination — an approach that may well allow her to wiggle through and be confirmed.
Yesterday, Sandy Froman struck again. But this time she was joined with another past president of the NRA and several current Board members, as well.
"Judge Sotomayor's record on the Second Amendment causes us grave concern over her treatment of this enumerated right [to keep and bear arms]," the coalition stated.

"As Second Amendment leaders deeply concerned about preserving all fundamental rights for current and future generations of Americans, we strongly oppose this nominee, and urge the Senate not to confirm Judge Sotomayor."
In related news, the NRA sent a letter yesterday to the Senate Judiciary committee expressing "very serious concerns" over the Sotomayor nomination, but said that the leadership "has not announced an official position" out of respect for the confirmation process. The letter indicated the NRA's management would be watching the upcoming hearings very carefully.
One of the concerns about the hearing process, however, is that Sotomayor will act exactly the same way Obama has. You will remember that Obama tried to play himself off as a supporter of gun rights during the presidential campaign, but then once he took office, began showing his true colors.
Obama has nominated far-left gun banners to key positions of power — including Attorney General Eric Holder, State Department counsel Harold Koh and Judge Sonia Sotomayor.
It's not uncommon to see politicians tout the Bill of Rights when trying to get elected or confirmed, but then act like a modern day Benedict Arnold once they are safely entrenched.
If Judge Sotomayor is anything like the man who nominated her, she will tell Senators what they want to hear during the Senate proceedings, but then stab us in the back once she has secured a lifetime appointment to the bench.
Folks, this is a huge battle. And that's why it's important to have every single gun organization firing all of its political ammunition. This is a battle that we can win. So even though we already asked you to contact the NRA's management last week, it is imperative that they hear from you again.
ACTION: Please urge the NRA's upper management to tell Senators that a vote to confirm Judge Sotomayor is an anti-gun vote. You can use the text message below — addressed to NRA Executive Vice President Wayne LaPierre and NRA Executive Director Chris Cox — to help direct your comments to the NRA.
CONTACT INFO for the NRA:
Phone) (800) 392-8683 Webform) https://secure.nraila.org/Contact.aspx
—– Pre-written comments —–

Dear Mr. LaPierre and Mr. Cox:

I was so excited to see that past NRA President Sandy Froman — in coalition with several other past and present NRA leaders — came out in opposition the nomination of Judge Sotomayor.

In a letter dated July 7, the coalition stated that "we strongly oppose this nominee, and urge the Senate not to confirm Judge Sotomayor."

This is Froman's second communication in this regard, as she stepped up to the plate on June 24 with a call to arms for all NRA members to vigorously oppose the Sotomayor nomination.

"Gun owners, and especially the members of the National Rifle Association," Froman said, "must aggressively oppose Judge Sotomayor's confirmation to the Supreme Court."

I couldn't agree more with Mrs. Froman.

I hope that the NRA will officially tell Senators now — and not wait until after the hearings — that a vote to confirm Judge Sotomayor is an anti-gun vote. Please let me know what you intend to do.

Thank you.

Sincerely,
Gun Owners of America
8001 Forbes Place, Suite 102
Springfield, VA 22151
Phone: 703-321-8585
FAX: 703-321-8408
www.gunowners.org