Rage Broadheads – Its Like Throwing An Axe Through An Animal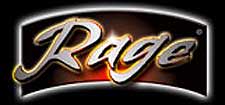 Superior, Wisconsin —-(AmmoLand.com)- Rage broadheads have built their reputation on creating huge entry holes, gaping wound channels and unprecedented blood trails. It is not only the most humane broadhead on the market; it is also the most forgiving.
While the Rage broadhead is devastingly effective, it is also extremely graphic in its results; often deemed too graphic for television network broadcast. That's why Rage has produced an uncensored version of its new commercial and posted it to the Rage website at www.ragebroadheads.com. In addition, there is a 13-minute video montage containing kill shots, blood trails, and examinations from national television shows that were prohibited from airing by network executives. Be warned; this video is not for the squeamish or the faint of heart.
To truly appreciate the impact and results of these broadheads it is often necessary to see to believe­—either first hand or on video. While the uncensored footage on the Rage website was found to be too graphic for broadcast, these are exactly the kind of shots that you'll want to make in the field to "put 'em down."
All of these devastating shots were due to the proprietary rear-deploying SlipCam blades that are fully deployed the instant they make impact, and it all happens with no loss of kinetic energy. The exclusive Shocklock™ System holds each blade in place without the need for rubber bands. Simply push the blades into place, and they automatically lock down.
The RageTM is available in 100-grain in either a 2-Blade design, with either the new 1.5-inch or the giant 2-inch cutting diameter, or a 3-Blade design, with a 1.5-inch cutting diameter. All models retail for $44.99 for a package of three with a practice head. For an in-depth look at the RageTM and the revolutionary, patented designs, check out the interactive website www.ragebroadheads.com. Be sure to spend some time looking at the high-speed video footage comparing the impacts of fixed, traditional expandables, and the RageTM broadheads.
About:
Revolutionary Rage® SlipCam™ broadheads fly with a sleek, aerodynamic, field-tip-like profile. Upon impact, the blade's shoulders catch, the SlipCam initiates forcing the blades to slide back and deploy from the rear. At the time of impact, the blades are fully deployed, giving you a bigger entry hole. Rage,™ the revolutionary rear-deploying expandable broadhead that flies like a field-tip.