Revision Photochromic Hellfly Ballistic Sunglasses Give Law Officers A Tactical Edge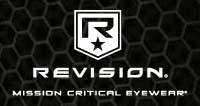 Essex Junction, VT, USA – -(AmmoLand.com)- Revision Eyewear, leading suppliers of ballistic protective eyewear to law enforcement and military worldwide, marks its debut in light changing lens technology with the Photochromic Hellfly Ballistic Sunglass.
Featuring Revision Eyewear's rapid light changing technology, the Photochromic Hellfly Sunglasses automatically darken to a sunglass tint when exposed to sunlight and return to their clear state in the absence of UV rays, giving law officers a tactical edge in rapidly changing environments.
"Revision's photochromic lens technology eliminates the need to switch lenses when transitioning between the indoors and outside, allowing the end user to focus on his mission, not his eyewear," commented Jonathan Blanshay, CEO of Revision Eyewear. In tests, Revision's Photochromic Hellfly lenses took only 45 seconds to change from their darkest state to 60% clear, while competitor's lenses took over 2 minutes to do the same. "For tactical operators, faster photochromic lenses mean enhanced visual performance when it's most needed, in dynamic environments."
True to the entire Hellfly Sunglass line, the new photochromic lenses meet military specifications for ballistic protection (MIL-PRF-31013 clause 3.5.1.1) and provide flawless optics. Revision's Photochromic Hellfly Ballistic Sunglasses retail for $149.99 and offer weightless comfort, superior ballistics and wrap-around protection for everyday on and off-duty use.
ABOUT REVISION
Revision Eyewear develops purpose-built eyewear for military, law enforcement and tactical clients worldwide. Revision products deliver the highest standards of protection, optical clarity, durability, compatibility and comfort. Major clients include all services within the U.S. Military, the Canadian Department of National Defence, the Belgian Ministry of Defence, the Swiss Department of Defence, and the Netherlands Armed Forces. Privately owned and ISO 9001:2008 certified, Revision's operational facility is located in Essex Junction, Vermont, USA, with additional offices in the U.K., Germany and Canada. For more information, visit www.revisioneyewear.com, write [email protected], or call +1 603.436.1748.