California Legislative Alert: AB 962 Handgun Ammunition Registration Bill
Position: Oppose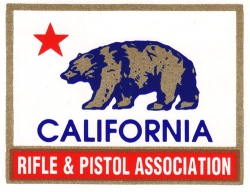 Sacramento, Ca –-(AmmoLand.com)- AB 962 is set for reconsideration in the Senate Committee on Appropriations on Thursday, 8/27. The bill is currently in the Senate Appropriations suspense file. Please ask our members to contact the members of the Senate Appropriations Committee and their local Senator to urge a NO VOTE.
This information is accurate at the time this CAL-ERT was written and originally distributed. The NRA Members' Councils of California and the California Rifle and Pistol Association have issued this alert in a cooperative effort and will keep you informed as the legislative situation changes in Sacramento.
LEGISLATION PENDING:
(This is a partial list. Complete list is found at https://www.calnra.com/legs.shtml)
The California State Legislature is back in session and two very bad anti-gun bills could be voted on at any time. Please take the requested action to oppose both of these bills. Your support is critical if we are to defeat this unreasonable legislation.
AB962 (DeLeon) AMMUNITION SALES RESTRICTIONS
This bill would:
establish a database and a program administered and maintained by the Department of Justice for licensing handgun ammunition vendors.
require that commencing July 1, 2010, unless specifically excluded, no person shall sell or transfer more than 50 rounds of handgun ammunition in any month unless he or she is registered as a handgun ammunition vendor.
also provide that no retail seller of ammunition shall sell, offer for sale, or display for sale, any handgun ammunition in a manner that allows that ammunition to be accessible to a purchaser without the assistance of the retailer or employee thereof.
further provide that handgun ammunition may only be purchased in a face-to-face transaction and only if certain conditions exist. This restriction would eliminate mail-order and Internet sales of ammunition.
require certain ammunition vendors to obtain a thumbprint and other information from ammunition purchasers, and would require submission of that information to the Department of Justice.
Furthermore, if AB962 were to pass, it would potentially halt all smallbore rifle youth programs, including ROTC, Boy Scouts Girl Scouts and 4-H shooting sports programs. Friends and family-members who provide ammunition to each-other could become criminals if this bill were to become law.
STATUS: AB962 has been moved to the Suspense File in the Senate Appropriations Committee and can be voted on at any time.
POSITION: NRA & CRPA STRONGLY OPPOSE
About:
California Rifle and Pistol Association: To oppose any actions which the Association believes infringe upon the right of the individual citizen to keep and bear arms as guaranteed by the Second Amendment to the Constitution of the United State of America.