Cheaper Than Dirt Sponsors 2009 Arkansas Section Multi-Gun Championship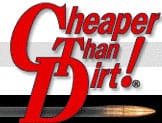 Fort Worth, TX –-(AmmoLand.com)- Cheaper Than Dirt! is happy to announce their sponsorship of the 2009 USPSA Arkansas Section Multi-Gun Championship being held August 29th – 30th at The Old Fort Gun Club River Range. Based out in Fort Smith, Arkansas, The Old Fort Gun Club is an 800 member organization that supports shooting sports and Second Amendment Rights.
The Old Fort Gun Club River Range is a 35 acre facility with seven pistol bays, as well as 100 and 300 yard rifle ranges.
"Cheaper Than Dirt strives to be an active member of the shooting sports community" said Chief Operating Officer Roberta Wilson. She continued commenting "We always encourage participation in the USPSA, and want to show our continued support of their events."
USPSA is the United States Practical Shooting Association. Practical shooting events challenge competitors to combine speed and accuracy while engaging targets set throughout an obstacle course.
About:
CheaperThanDirt.com prides itself on being America's Ultimate Shooting Sports Discounter since 1993. Cheaper Than Dirt boasts over 24,000 items available for purchase through their website and catalog. For most items, CheaperThanDirt.com offers a generous 30 day return policy. For more information, or to place and order, visit www.CheaperThanDirt.com or call 1-800-421-8047. Most orders ship within 3 hours.