Final Approachs New Eliminator Cargo Blind Gives Hunters Mobility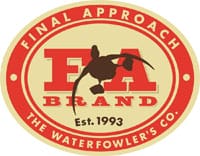 Overland Park, KS. –-(AmmoLand.com)- Successful waterfowl hunters know that mobility is the key to success particularly late in the season after birds have been pressured. The new Eliminator Cargo Blind (E.C.B.) from Final Approach makes it easy to move all your gear – ground blind, decoys, guns, etc. – with minimal effort.
The Eliminator Cargo Blind (E.C.B.) is a full-featured ground blind with removable wheels that will carry up to a dozen full body decoys, four dozen silhouettes or over 200 rag decoys, plus your gun, flags and other gear. The blind is built on a lightweight, collapsible aluminum frame so it won't rust. Just attach the wheels, roll it out to your favorite field and set up your decoy spread. No need to make multiple trips. If the action moves to another location, you can be on your way within minutes.
The ground blind is constructed with durable 600-denier poly fabric with a waterproof coating for extra protection from the elements. The base of the blind uses ¾-inch closed cell foam to insulate the user from head to toe against wet and cold. For extra comfort and convenience, the blind has fast-access flagging holes on each side, a padded head and gun rest, built-in gun scabbard for transporting shotgun and a roomy interior.
When set up, the Eliminator Cargo Blind (E.C.B.) has a very low profile for better concealment. It features the original FA double lid system for fast shooting access and Stubble Straps for attaching natural cover. At the end of the day, it can be easily cleaned out with the quick-zippered foot pouch. The collapsible design of this blind allows it to fit into short bed pickups while retaining its structural integrity.
For greater versatility, the Eliminator Cargo Blind (E.C.B.) is available in three popular camo patterns: Advantage Max 4, Mossy Oak Duck Blind and FA Field Brown.
­­­­­­­­­­­­­­
For more information, visit www.fabrand.com or call consumer inquiries at 800-423-3537.
About:
Bushnell Outdoor Products is a global manufacturer and marketer of branded consumer products based in Overland Park, Kansas. Bushnell Outdoor Products sells its products worldwide under the Bushnell®, Tasco®, Serengeti®, Bollé®, Uncle Mike's Law Enforcement®, Stoney Point®, Hoppe's®, Butler Creek®, Kolpin®, Millett®, Uncle Mike's®, Final Approach® and Simmons® brand names. For information about any of these brands or products, please contact Bushnell Public Relations at (913) 752-6105.