Gear Up for Dove Season with Cheaper Than Dirt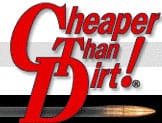 Fort Worth, TX – Dove season is rapidly approaching, are you ready? Cheaper Than Dirt! is making it easy to gear up for this year's dove season by presenting you with our 12 most popular dove hunting products. Cheaper Than Dirt has all the hunting and shooting equipment you need to outfit yourself for the 2009-2010 bird and deer season.
Demand for hunting and shooting supplies is at an all time high. Inventories of certain items and popular ammunition calibers are already down. Beat the mid-August rush and order now.
Chief Operating Officer Roberta Wilson commented on the ammunition shortage saying, "our buyers are working diligently to keep our shelves stocked with ammunition as it becomes available. Handgun calibers seem to be in very short supply as the prices continue to escalate"
Edge Expedite Flapping Dove-N-Air Dove Decoy

Random wing flaps
Realistic body
Removable wings
Requires 3 AAA batteries (not included)

12 Gauge Remington ShurShot Heavy Dove Load, 2-3/4″, #8 Lead Shot

1-1/8 oz.
1255 fps
25 Rounds

12 Gauge Remington Extended Choke Tube, Improved Modified

Fits 12 gauge Remington shotguns
Extended choke tube
Improved modified
Black oxide

Holds 2 boxes of shells
2 large pockets
Belt fits 30″ to 48″ waists
Water drain holes in each pocket

Rifle/Shotgun Sling

Rifle/Shotgun Sling
Neoprene
Leather Trim
Black

1/4″ Magnum Xtreme Fiber Optic Shotgun Sights

Fits 1/4″ ribs
Red front sight, green rear sight
Magnetic mount
0.060″ front dia.
0.035″ rear dia.

Limbsaver Speed Mount Recoil Pad

Limbsaver Speed Mount recoil pad
Fits Remington 870, 1100 & 1187 synthetic
Anti-muzzle jump
Ergonomic design

Remington 1100 12 Gauge Barrel, Vent Rib, 30″

For Remington 1100 12 gauge shotguns
30″ Vent rib
Full, Modified & Improved Cylinder choke tubes
2-3/4″ chamber
Polished blue finish

Shotgun Plug, Plastic, Black, Fits Most Shotguns

Durable plastic
Safer than wood, does not collect moisture
Can be cut to limit magazine capacity to 2 rounds

H20 Fanny Pack, Advantage Timber Camo

2 large zippered compartments
Buddy-Lok modular locking system on waistbelt
2 drawstring water bottle pouches
2 half liter shatter-resistant Cyclone Poly Carbon water bottles

Allen Large Upland Hunting Vest

Blood-proof game pocket
Zippered front closure with secondary snap closure
Shooting patch
Pockets with shell loops for shotgun shells
Cool mesh construction
About:
CheaperThanDirt.com prides itself on being America's Ultimate Shooting Sports Discounter since 1993. Cheaper Than Dirt boasts over 24,000 items available for purchase through their website and catalog. For most items, CheaperThanDirt.com offers a generous 30 day return policy. For more information, or to place and order, visit www.CheaperThanDirt.com or call 1-800-421-8047. Most orders ship within 3 hours.