Max Michel Named World's Fastest Shooter For A Third Time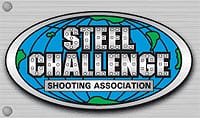 PIRU, Calif. —-(AmmoLand.com)- Max Michel of Covington, La. joins Doug Koenig, Jerry Barnhart and Jethro Dionisio as the only other shooter to win the Steel Challenge three times. Michel again won the title of World's fastest this past weekend in Piru, Calif. where he dominated a field of the best shooters from around the country and across the globe.
Michel previously won the title in 2007 and 2005 when he shot as a member of the prestigious U.S. Army Marksmanship Unit. He now shoots for firearms maker Sig Sauer.
"Max joins a very elite club of three time winners," said Michael Voigt of the Steel Challenge Shooting Association. "No competitor has posted a fourth win, but with Max's skill and blazing speed it's hard to imagine that barrier holding up for much longer."
Michel captured his third Steel Challenge title by winning two stages and posting a final score of 82.09, a 2.33 second cushion over second place finisher and the 2009 Steel Master winner BJ Norris of Tyler, Texas.
For the second year in a row Norris found himself in the runner up position, this year posting a time of 84.42, well off his 2008 pace of 80.84. He also finished second in the Limited match but took top honors in the Open Rimfire Pistol event. The combined time of the three events allowed the Team Smith & Wesson member to successfully defend his Steel Master title by a comfortable margin of 8.93 seconds over Team Glock's Dave Sevigny.
The defending Steel Challenge champion KC Eusebio of Diamond Bar, Calif. finished third by winning three stages, including setting a new world record on Speed Option, for a final time of 86.07. Eusebio won in 2008 with a time of 79.16. He also won the title in 2003 at the age of 15.
Rounding out the top five were Sevigny of Smyrna, Ga. in fourth winning one stage and ending the match in a time of 86.62 and 2004 World Champion Tatsuya Sakai of Kanagawa, Japan capturing fifth with 87.40.
For complete results from this year's match and more information on the Steel Challenge and the Steel Challenge Shooting Association (SCSA) visit www.SteelChallenge.com.
About the SCSA:
The Steel Challenge Shooting Association (SCSA) is the governing body of the sport of Speed Shooting and organizer of the Steel Challenge World Speed Shooting Championships. To learn more about SCSA and the Steel Challenge visit SteelChallenge.com where you will find stage diagrams, complete results, a list of past champions, world record times and more.