New Orleans Style Gun Seizures in Michigan?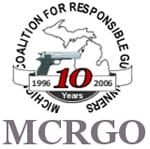 Michigan – -(AmmoLand.com)- Q: I have read about the nightmare of gun seizures that occurred in New Orleans directly after Hurricane Katrina.
What guarantees do we have that such an abuse of power cannot take place here in Michigan?
A: MCL 10.31 (Public Act 302 of 1945), entitled: "Emergency Powers of the Governor," states in Section 1 that,"During times of great public crisis, disaster, rioting, catastrophe, or similar public emergency within the state, or reasonable apprehension of immediate danger of a public emergency of that kind, when public safety is imperiled, either upon application of the mayor of a city, sheriff of a county, or the commissioner of the Michigan state police or upon his or her own volition, the governor may proclaim a state of emergency and designate the area involved."
The powers granted in 1945 when the law was enacted are quite broad and do include "…control of the storage, use, and transportation of explosives or inflammable materials or liquids deemed to be dangerous to public safety."
However, the law was amended in 2006 with the full support and cooperation of MCRGO, to include Subsection (3), which states: "(3) Subsection (1) does not authorize the seizure, taking, or confiscation of lawfully possessed firearms, ammunition, or other weapons."
So, the Governor of Michigan does not have the legal authority to seize otherwise lawfully owned guns or ammunition from citizens, even during a properly declared emergency.
Steve Dulan (www.StevenWDulan.com) is a member of the Board of Directors of the MCRGO and the MCRGO Foundation, and a member of the Board of Trustees of the MCRGO Foundation. He is an attorney in private practice in East Lansing and Adjunct Professor of firearms law at The Thomas M. Cooley Law School. as well as an NRA Life Member.
About:
The Michigan Coalition for Responsible Gun Owners is a non-profit, non-partisan organization. Formed from just eight people in 1996, we now have thousands of members and numerous affiliated clubs across the state. We're growing larger and more effective every day.
Our mission statement is: "Promoting safe use and ownership of firearms through education, litigation, and legislation"