Regulatory Czar Nomination Appears on Ice Through August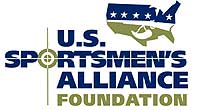 Washington, DC – -(AmmoLand.com)- The nomination of animal rightist Cass Sunstein to head the Office of Information and Regulatory Affairs (OIRA) continues to face hurdles as America's sportsmen and others put pressure on their U.S. senators.
As reported previously, Sunstein has had multiple holds placed on his nomination to head the powerful federal office that can review and block all federal rules, including those of interest to sportsmen. According to press accounts, it appears that Sunstein's nomination will not be voted on before the Senate recesses for August. However, pressure is building to obtain a vote upon the Senate's return.
Take Action- As elected officials head home for summer recess, sportsmen should continue to express their opposition to the nomination of Sunstein to head OIRA. Please use the Legislative Action Center to contact your senator.
About:
The U.S. Sportsmen's Alliance (USSA) and the U.S. Sportsmen's Alliance Foundation (USSAF) work nationwide, representing over 1.5 million sportsmen through member clubs and individual constituents.   The organizations provide legislative, legal defense and public education services to defend and advance sportsmen's rights in Washington, D.C. and in all 50 states.