U.S. Army Marksmanship Soldiers Reflect On Golden Year
Olympic champs share victory with country.
By Michael Molinaro
USAMU PAO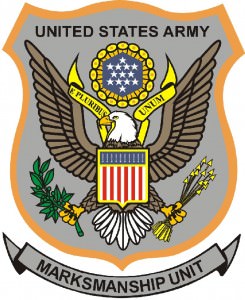 FORT BENNING, Ga.- -(AmmoLand.com)- They still can't believe it. They can't believe it's been one year since they did it, since they won Olympic Gold medals in the sport that has engulfed their lives practically forever. They can't believe how fast a year can go.
The Soldiers dream of winning gold medals at the Olympics and sharing it with their families and friends. Those dreams didn't include sharing it with the country. They didn't comprise meeting the president and vice-president. They didn't consist of throwing out the first pitch at a baseball game or jumping out of a plane. They didn't include becoming heroes to the nation's youth or a Soldier deployed in combat.
U.S. Army Marksmanship Soldiers Sgt. Glenn Eller and Spc. Vincent Hancock embraced all that comes with being crowned Olympic champions the only way they knew how: with the dedication, expertise and professionalism instilled in every Soldier at the USAMU. While there will be no gold medals for what they have done in the time since their triumph, it may end up being more valuable than the medals around their necks.
"I still can't believe I did it," said Eller, who won gold in the Men's Double Trap Aug. 12, 2008, setting an Olympic record along the way.

"I remember how nervous I was, but reality never set in on what I was doing until it was over. It's still all kind of surreal right now."
Hancock already had a world record in Skeet but had been aiming for Olympic Gold since the age of 10. On Aug. 16, he fulfilled that dream and also set an Olympic record.
"I don't remember much besides breaking the final pair and holding my gun up because it was an accomplishment that I had been dreaming about my whole life, " he remarked. "Thinking about it now brings a smile to my face. It's just awesome."
The Soldiers returned to the U.S. after the games and hit the ground running. They met then-President George W. Bush and Vice-President Dick Cheney. They had lunch with Defense Secretary Robert Gates. They made small talk with Secretary of the Army Pete Geren and Gen. George Casey, Army Chief of Staff. And that was only the beginning.
"The first six months was completely hectic," Eller said. "We were traveling from city to city, going to NASCAR races, visiting high schools, colleges-you name it and we were there. We were showing people that your dreams can come true."
"It was tough being away from my wife so much," Hancock said. "We've only been married since May of last year so being gone from her for the first half-year of our marriage had been kind of difficult."
Besides being away from loved ones and friends, they were also taken from two of the reasons why they are successful-their training and the unit.
"A lot has been asked of them and they definitely rose to the occasion," said Sgt. 1st Class Charles Coffey, USAMU shotgun team noncommissioned officer-in-charge. "They shared that victory with other Soldiers. They showed young adults and teenagers that anything is possible if you set your mind to it. It shows that we're Army strong.

"It's neat to see how that individual accomplishment affected so many. Our brigade commander, Col. Fred Johnson (Accessions Support Brigade), was telling us how he was deployed overseas and one of his Soldiers was holding a newspaper illustrating a fellow Soldier had won gold and his Soldier raved 'The Army won!' That's the team spirit of the Army. We always come together as a team."
Had the Soldiers been full-time Olympic athletes or civilians, the past year would have been jammed with endorsements and uninterrupted training time to continue enhancing their skills. Instead, Eller and Hancock were handed the reigns of the Army accessions wagon.
"People ask me if I regret joining the Army because I could have made a lot of money this entire time," Hancock said. "The Army helped me get to where I am. Here, I know I have the right training and the right people pushing me.
"Being here has given me a lot of stability and something to lean on. It's given me a drive and helped me set my goals. I don't regret it at all."
The Soldiers accomplishments showed the American public the professionalism of the Army, but also validated the expertise of the USAMU to those inside the most powerful military organization in the world.
"If I train Soldiers here before they deploy, and then they go back to their unit and train their guys, then I just helped an entire unit raise their combat readiness," said Eller. "And everywhere we go, we instill positive impressions of the Army. That may help prospective candidates in their decision to enter the Army."
The Soldiers didn't train for four-to-five months after the Olympics due to their mission for the Army. It was the longest they both had gone without shooting since they started as youth and they agree it affected their results in competitions early in the season. But now things have calmed down and their focus has returned, evident by Hancock winning his first national championship last month in skeet.
The duo is currently in Slovenia competing in the World Championships. They both said they now have a plan to get back to that podium in London in 2012. But they know being a Soldier and the mission always comes first. At a moments notice, they may be asked to grand marshal a parade or speak at a high school assembly.
"It's not easy, but I love it," Hancock said. "(The Army) is a great place to be and I wouldn't trade it for anything."
Their accomplishments away from the shooting range this past year will never go documented and the effects may never officially be known. The gold medals, however, are theirs for keeps.
They still can't believe it.
About USAMU:
The USAMU's mission is to raise the standard of marksmanship proficiency and combat readiness throughout the Army by sharing knowledge gained from competing and winning in national/ international competitions, research and development and advanced training programs while enhancing the Army's recruiting effort through an active public information and public relations program. For more information on the U.S. Army Marksmanship Unit, contact the Public Affairs Office at (706) 545-5436, [email protected] or www.USAMU.com . The U.S. Practical Shooting Association is a nonprofit membership association affiliated with the International Practical Shooting Confederation, which is comprised of approximately 67 nations.