Uncle Mike's Law Enforcement Adds New Conceal and Carry Products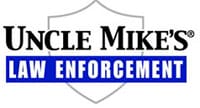 Overland Park, KS. – Uncle Mike's Law Enforcement has added three new products that are designed for concealed carry of handguns.
Uncle Mike's Fanny Pack has a new design with updated materials for a better look and function. The pack holds the handgun snuggly but is easily accessible. In addition to a handgun the Uncle Mike's Fanny Pack will hold other small items. Suggested retail price is $34.95.
Uncle Mike's "Day Timer" Holster is a nice looking small day planner that is actually a holster. It looks like any other day planner from the outside, but instead is an excellent way for a gun owner to carry a concealed handgun. The day planner is made of ballistic nylon and sells for a suggested retail price of $16.95.
Uncle Mike's PDA Holster looks like a regular cell phone or PDA carry case but it is really an alternative way to carry a small concealed handgun. The case comes with a belt clip and has a soft interior that protects the firearm. The PDA Holster gives the owner instant access to their firearm while keeping it undetected. It sells for a suggested retail price of $9.95.
For more information, Shop Uncle Mikes or call consumer inquiries at 800-423-3537.
About:
Bushnell Outdoor Products is a global manufacturer and marketer of branded consumer products based in Overland Park, Kansas. Bushnell Outdoor Products sells its products worldwide under the Bushnell®, Tasco®, Serengeti®, Bollé®, Uncle Mike's Law Enforcement®, Stoney Point®, Hoppe's®, Butler Creek®, Kolpin®, Millett®, Uncle Mike's®, Final Approach® and Simmons® brand names. For information about any of these brands or products, please contact Bushnell Public Relations at (913) 752-6105.