U.S. Military Shooting Team Set To Take On The World
By Michael Molinaro
USAMU PAO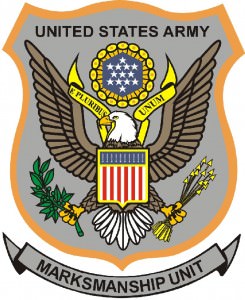 FORT BENNING, Ga.— -(AmmoLand.com)- The U.S. Military Shooting team is set to take on the world's best at the 44th Conseil International Du Sport Militaire (CISM) World Shooting Championships in Zagreb, Croatia Aug. 12-16.
Soldiers from the U.S. Army Marksmanship Unit out of Fort Benning comprise the majority of the team, along with a Coast Guardsman, a Sailor, and one Army Reservist.
"This is a veteran-laden team," said Michael Behnke, team captain and USAMU chief of competition. "Except for one member, all have been to a CISM, some more than others."
There was a series of tryouts this year to invite non-USAMU members from other services to provide them an opportunity to be on the team, Behnke said. Because of deployments and opportunities throughout the year it's very difficult for other services to do so.
The U.S. team consists of USAMU Soldiers Sgt. 1st Class Thomas Rose; Sgt. 1st Class Eric Uptagrafft; Sgt. 1st Class Janet Sokolowski; Staff Sgt. Armando Ayala; Staff Sgt. Kelly Dove; Staff Sgt. Robert Park II; Sgt. Michael McPhail; Sgt. Nicole Allaire; and Cpl. Brad Balsley.
Army Reservist Lt. Col. Rhonda Bright made the team, as did Navy Petty Officer 1st Class Sandra Uptagrafft and Coast Guard Lt. Jennifer Leong. The coaches are Thomas Tamas, Glenn Sulser, and Ray Arredondo. The chief of mission is Lt. Col. Daniel Hodne, USAMU commander, and jury members are Wanda Jewell and Richard Hawkins.
The U.S. team has had a very successful past at CISM. The highest award given at the competition, Best Nation, is named the U.S. Army Challenge Trophy. The U.S. team had won the best nation award so many times that CISM permanently gave the award to the U.S. in 1972.
A pair of dueling silver antique pistols donated by King Paul of Greece in 1957, the U.S. handed the trophy back to CISM to serve as a perpetual trophy at featured CISM matches. After losing out on the trophy for two years, the U.S. won the coveted trophy in 2008 for the 24th time and will defend it this year.
The competition includes events in rifle and pistol shooting for both men and women. They compete in individual events as well as team events. The men shoot with 300m bolt guns and.32-caliber center fire pistols. The women shoot with small-bore rifles and .22-caliber pistols.
The women's 50m prone rifle team won that event last year and all three competitors—Bright, Dove, and Allaire—will be on hand to defend their crown. This year, the toughest competition for the U.S. team in general will be perennial powerhouses China, Norway, Denmark, Sweden, and Belarus, as well as Russia and Germany, remarked Behnke.
According to the mission statement of CISM, its goal is to promote friendship through sport. All of the athletes are in the military for their respective nation and while they train to meet on the battlefield, CISM's goal is to use a sports field to bring those athletes together.
The competitors will stay on post for the most part, Behnke said, since they stay in barracks and the ranges are all on the post grounds. While opportunities for sightseeing arise, clubs with casual settings on post allow the teams to reacquire old friendships and acquire new ones. Since it is a military-only sports organization, CISM's shooting championships are one of the best attended events of the year.
"Shooting is the center of all armies," Behnke said. "This is a military skill set in a military competition."
The opening ceremonies will be jam-packed with pomp and circumstance, drill and ceremony, military bands, and a conglomerate of shooters on the world stage representing their nations. The U.S. team will wear their Class B's, march in unison before the world and reacquaint themselves with old friends, but make no mistake about it: their focus will be on the task at hand.
"We go to win, we don't go to participate," Behnke said. "We are going there to defend our title."

FORT BENNING, Ga.--The U.S. Army Challenge Cup, given to the team who wins Best Nation at the Conseil International Du Sport Militaire (CISM) World Military Shooting Championships, sits in the headquarters of U.S. Army Marksmanship Unit. The U.S. won the award in 2008 and is preparing to defend the title Aug. 12-16 in Zagreb, Croatia. (Photo by Michael Molinaro, USAMU)
About USAMU:
The USAMU's mission is to raise the standard of marksmanship proficiency and combat readiness throughout the Army by sharing knowledge gained from competing and winning in national/ international competitions, research and development and advanced training programs while enhancing the Army's recruiting effort through an active public information and public relations program. For more information on the U.S. Army Marksmanship Unit, contact the Public Affairs Office at (706) 545-5436, [email protected] or www.USAMU.com . The U.S. Practical Shooting Association is a nonprofit membership association affiliated with the International Practical Shooting Confederation, which is comprised of approximately 67 nations.