Vincent Hancock Captures Second World Championship Title
USA Shooting Team Earns a total of 10 Medals at 2009 Shotgun World Championships
By Mary Beth Vorwerk, USA Shooting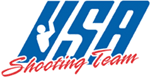 COLORADO SPRINGS, Colo. – -(AmmoLand.com)- Approximately 600 shooters from 70 countries competed at the 2009 ISSF Shotgun World Championships in Maribor, Slovenia August 7-16. Thirty shooters, including 15 juniors, represented the U.S. in Maribor where the team finished second in the overall medal tally, bringing home 10 medals, breaking two World Records and equaling a World Record.
The U.S. earned three individual medals with 2008 Olympic gold medalist Vincent Hancock (Eatonton, Ga.) leading the way by winning his second World Championship title in Men's Skeet.  Jeff Holguin (Yorba Linda, Calif.) took home his first World Championship medal when he claimed the silver in Men's Double Trap and Amber English (Colorado Springs, Colo.) won the only individual medal for the juniors, capturing the silver in Junior Women's Skeet.  The U.S. also secured seven team medals – three gold, three silver and one bronze – out of the possible nine team events at the World Championships.
Hancock's golden performance occurred exactly one year to the day after he won the Olympic gold in Beijing.  U.S. Army Marksmanship Unit (USAMU) Hancock won the World Championship title in Maribor shooting a near perfect score.  Hancock, who is also the 2005 Shotgun World Champion, World Record holder and 2007 bronze medalist in Men's Skeet, only missed one target in the qualification, shooting 124 out of 125 targets. Hancock entered the final in first place and shot a perfect 25 in the final to finish in the top spot with 149 out of 150 targets.
"It was great," Hancock said after his win. "It felt like the old me. It had been a long time coming since the Olympics."
Reigning World Champion George Achilleos of Cyprus and Italy's Ennio Falco, the 1996 Olympic gold medalist, also both shot a perfect score of 25 targets in the final, ending in the second and third spots with 148 and 147 targets respectively.
Hancock's USAMU teammate and 2004 Olympian Shawn Dulohery (Lee's Summit, Mo.) was tied at 122 targets with four other shooters at the end of the qualification and entered the final in third place after a shoot-off.  In the final, Dulohery, the 2001 World Champion, shot 24 targets to end up one target out of medal contention in fourth place with 146 total hits.  Frank Thompson (Alliance, Neb.) finished in 18th place with 120 targets.
Hancock, Dulohery and Thompson shot their way to a gold medal in the team event, hitting 366 out of 375 targets, setting a new World Record that broke the previous 365 target record set by the Italian team at the 2006 ISSF World Shooting Championships in Zagreb. The team from Finland took the silver with 361 targets and Denmark earned the bronze, also with 361 targets.
BJ Blanchard (Vidor, Texas), Jon Michael McGrath (Tulsa, Okla.) and Chris Haver (Clinton, Mich.) captured the silver in the Junior Men's Skeet team competition after shooting a combined score of 349 targets.  The Czech Republic team won the gold with 353 total hits and the team from Sweden took home the bronze with 348 hits.
Blanchard, who is the reigning World Championship bronze medalist in the Junior Men's Skeet event, finished the highest individually for the U.S. Junior Skeet Men firing 119 targets and ending up in fifth place.  McGrath finished in 11th place with 116 targets and Haver took 18th place with 114 hits.
Czech Republic's Milos Slavicek won the Junior Men's Skeet competition with a total score of 122 hits.  Marcus Svensson of Sweden finished in second place with a total score of 121+4 hits after a shoot-off with Italy's Angelo Moscariello.
Holguin, a 2008 Olympian, earned the silver medal in the Double Trap event and also captured the gold in the team event, along with his USAMU teammates Glenn Eller (Katy, Texas) and Josh Richmond (Hillsgrove, Pa.).
Holguin, Eller and Richmond, who were competing on their third consecutive World Championship team together, all qualified for the final in the individual competition, with Holguin coming out with the highest finish.  Holguin shot a qualification score of 144 out of 150 targets and hit 42 targets in the final to finish with 186 total targets, tied with China's Wang Nan.  Holguin secured the silver by winning the shoot-off 2-0, leaving Wang with the bronze. Holguin won his last international medal in 2008, when he captured the bronze at the ISSF World Cup in Kerrville, Texas.  Italy's Francesco D'Aniello, the 2008 Olympic silver medalist, earned his second World Championship title in a row, finishing with 190 total hits.
Beijing Olympic gold medalist Eller, finished in fourth place just one target behind the medalists, with a total score of 185 hits. Eller shot a match score of 143 targets and 42 targets in the final. Richmond, who won the bronze at the last Shotgun World Championships in 2007, finished in fifth place with 183 +5 targets after outdoing India's Ronjan Sodhi in a shoot-off.
Holguin, Eller and Richmond captured the team gold after firing a total of 430 targets, and also tied the World Record.
"The USA team is really strong. They are excellent shooters," said D'Aniello after the match.  "Facing the Olympic Champion Eller and his teammate Holguin in the final brought me back to the Olympic Final of Beijing. I faced the best shooters of the world, today. It has not been easy."
The Italian team of D'Aniello, Claudio Franzoni and Daniele Di Spigno grabbed the team silver with an overall score of 421 targets, while the team bronze went to Great Britain (Steven Scott, Richard Faulds and Steven Walton) with 418 targets.
The Junior Double Trap team of Billy Crawford (Johnstown, Ohio), Derek Haldeman (Sunbury, Ohio) and Bryce Gearhart (Freeburg, Pa.) won the silver medal in the team event with a total of 407 targets. The Russian Federation Junior team claimed the team gold with a total score of 413 targets and the bronze went to the team from Italy with a total of 402 hits.
Crawford earned the highest finish for the U.S. Junior Double Trap men individually, finishing in fourth place after a three-way shoot-off with Italy's Davide Gasparini and Alessandro Chianese for the silver and bronze.  Sixteen-year-old Crawford, who was shooting in his first international match, missed first in the shoot-off, lading in fourth place with a total score of 139 +4 targets, while Gasparini outdid his teammate Chianese winning the silver with 139+7 targets. Haldeman finished in eighth place with 136 targets and Gearhart shot 132 targets to take the 13th spot.
English won her first ever international medal after firing a total score of 71 out of 75 targets in the Junior Women's Skeet event to finish in second place behind Swedish shooter Therese Lundqvist.   Lundqvist captured the gold with 74 hits, breaking the world record of 72 hits, which was set by U.S. shooter Haley Dunn in 2005.
Natalia Panas of Russia earned the bronze medal with a total score of 69 targets.  Ali Chiang (Redwood Shores, Calif.) finished in fourth place with 67 hits and after a three-way shoot-off for fifth place.  Caitlin Connor (Winnfield, La.), the 2009 Minsk World Cup silver medalist, ended up in the sixth spot with 66 hits.
English, Chiang and Connor finished on top of the Junior Women's Skeet team podium with a record score of 204 targets. The three teammates broke the previous World Record of 198 targets shot by Russia at the 2007 World Championship in Nicosia, Cyprus.
The Russian team won silver ranking 12 targets behind the U.S., with a total score of 192 targets, while Poland secured the bronze with 191 total hits.
The Junior Women's Trap team of Molly Bender (Montoursville, Pa.), Brandi Hobbs (Edinboro, Pa.) and Kayle Browning (Wooster, Ark.) earned the bronze medal, shooting a total of 185 targets.  China won the team competition, shooting a total score of 202 targets and setting a new Junior World Record.  The Spanish team, holder of the record shattered by team China, closed the match in second place, winning the silver with 186 hits.
Individually, Bender finished the highest for the Junior Trap Women with 64 targets to land in 11th place, while Hobbs ended in 15th place with 61 hits and Browning fired 60 targets to finish in 18th place.
The Junior Trap Women's individual competition was won by the 18-year old Chinese shooter Qi Quiwen with a total score of 69 targets. Xu Tian, also of China, closed the match in second place with a total of 68 +1 hits. Xu shot-off against Rachel Yardy of Great Britain who finished in third place with a total score of 68 +0 targets.
The Men's Junior Trap team of Collin Wietfeldt (Hemlock, Mich.), Jacob Turner, (Richland, Wash.) and Seth Politi (Lexington, Mass.) claimed the silver medal in the team competition with a total score of 347 targets.  Italy won the team gold with 354 targets and the team bronze went to Portugal with 346 targets.
Individually, Wietfeldt finished the highest for the U.S. in 7th place, while Turner took eighth place, each with 119 targets.  Politi finished 49th with 109 targets.   Italy's Valerio Grazini won the Men's Junior Trap competition with 122 hits.  Paco Machado of Spain took home the silver with 121 hits and the bronze medal went to Germany's Daniel Wiesemann with a total score of 120 hits after winning 1 to 0 a shoot-off against Portugal's Pedro Jorge Nun Parreira.
In the Men's Open Trap event, 2008 Olympian Dominic Grazioli (San Antonio, Texas) scored the highest finish for the U.S., taking 21st place with 120 targets.  Three-time Olympian and 1996 bronze medalist Lance Bade (Colorado Springs, Colo.) finished 54th with 116 targets and Matthew Wallace (Stanton, Tenn.) finished 87th with 111 hits.
Marian Kovacocy of Slovakia climbed up from fifth place to win the Men's Trap gold medal with a total of 146 hits.  Italy's Massimo Fabbrizi won a shoot-off against Turkish shooter Oguzhan Tuzun at the conclusion of the final to secure the silver with a total score of 145 hits +1, while Tuzun settled for the bronze.
In the Women's Skeet event, four-time Olympian and 2008 Olympic silver medalist Kim Rhode (El Monte, Calif.) scored the highest finish for the U.S. team, barely missing a spot in the final after losing a shoot-off for sixth place.  Rhode ended in seventh place with 71 total hits.  Haley Dunn (Eddyville, Iowa) finished in 24th place with 64 targets and Jaiden Grinnell (Port Angeles, Wash.) landed in 29th place with 62 hits.
The defending World Champion, Christine Brinker of Germany, who is also the 2008 Olympic bronze medalist, won the Women's Skeet event with a total of 95 targets.  The silver medal went to Thai shooter Sutiya Jiewchaloemmit with a total of 94 hits and Katiuscia of Italy took home the bronze with a total of 93+3 hits after winning a shoot-off against Russia's Olga Panarina.
Corey Cogdell (Eagle River, Alaska), the 2008 Olympic bronze medalist, finished the Women's Trap event in 14th place with 69 targets, which was the highest U.S. finish in that event.  Susan Sledge (El Cajon, Calif.) finished in 34th place with 65 targets and 1996 Olympian and USAMU member Theresa DeWitt (Cincinnati, Ohio) ended in 36th place with 64 targets.
Seventeen-year-old Italian shooter Jessica Rossi became the new Women's Trap World Champion after climbing from fifth place to the top spot in the final with a total score of 92 targets.  Russia's Irina Laricheva won the silver with 90 hits.  The 2008 Olympic gold medalist, Satu Makela-Nummela of Finland, started the final round with the highest qualification score of 74 hits, equaling the World Record, but shot 15 targets in the final to finish in third place with 89 total hits.
After a very successful World Championships, the USA Shooting Team will look ahead to the 2010 World Shooting Championships in Munich, Germany to defend their titles and improve upon their growing World Championship medal tally.
For complete results from the 2009 Shotgun World Championships, please visit www.issf-sports.org.
Winchester Ammunition is a Proud Sponsor of the USA Shooting Shotgun Team:
Winchester® Ammunition has been the exclusive ammunition sponsor and supplier of the USA Shooting Shotgun Team since 1999. Members of the 2008 shotgun team brought home four medals from Beijing using Winchester AA International Target loads. Winchester is an industry leader in advancing and supporting conservation, hunter education and our country's proud shooting sports heritage. For more information about Winchester and its complete line of products, visit www.winchester.com.