Win a Rut Hunt By Visiting MillenniumStands.com
Check out Millennium Treestand's new edgy and easy-to-navigate website and learn how you can win a Rut Hunt.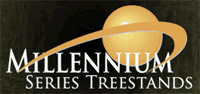 Pearl, Mississippi – -(AmmoLand.com)- At www.millenniumstands.com, you'll have the opportunity to submit a picture of your "Millennium Buck" and the story behind your kill. The hunter with the best story will win a Millennium stand of his or her choice and a fabulous all-expenses-paid rut hunt with Millennium Treestands this fall. Don't miss out on this opportunity.
While visiting the website, check out Millennium's innovative stands, which have long been recognized as the most comfortable and quietest stands on the market. Every angle, hinge and weld has been tested under the most extreme conditions by the most cynical and scrutinizing hunters. Each Millennium is the best compromise of weight, quietness, strength, security and comfort for its intended use. From climbing stands to double ladder stands, Millennium no doubt has a stand that's a perfect fit for you and your hunting style.
While perusing the net, don't forget to take a look at Millennium's technology, testimonials and resources page for additional information that will help you select the stand that's just right for you. After selecting your stand, stop by the Millennium gear page for accessories and other gear that are sure to help improve the quality of your hunt.
When silence, durability and safety are a must, Millennium's treestands and accessories provide you with the quality and peace of mind you deserve during your time in the field.
About:
Hunting Solutions was founded in 1999 our mission is to provide hunters with safe, high quality products at a fair price. Hunting Solutions is dedicated to quality design and workmanship that can be seen in all our products. This is how we are able to offer an unlimited lifetime warranty.