ATI's New Hunting Stock Adjusts To Hunter's Full Range of Tactics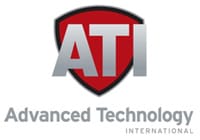 Milwaukee, WI –-(AmmoLand.com)- After one year of new ownership under John Chvala and Eric Pfleger, Advanced Technology International (ATI), has developed and announced a new generation of shotgun hunting stock and forend that transitions your gun into a universal and versatile hunting tool.
ATI's New Adjustable Hunting Stock adjusts in four positions from 12-3/8" to 14-3/8" with one easy push of a button, making the adjustment quick for your changing length of pull due to extra clothing during those winter months in the field. Hunters also may prefer a shorter length of pull during turkey season when you're setting up on that gobbling tom.
Another big advantage to this system is that it enables youth to have a properly fitted gun, making their hunting experience much more rewarding.
The incorporated neoprene cheek rest and recoil reducing buttpad with non-slip surface, offers added comfort when shooting. Interchangeable grips allow you to put your personal touch on your stock.
The forend has been ergonomically tailored with a non-slip grip for added confidence.
This new DuPont Reinforced Polymer shotgun stock and forend fits the 12 and 20 gauge Remington 870, Maverick 88, Winchester 1200/1300 and Mossberg 500/590 models.
The adjustable Hunting Stock and Forend is weather proof, has a limited lifetime warranty and is available in Matte Black, Camouflage and ATI's exclusive DyeHard™ Camo finishes.
~Take ATI To The Field~
About:
ATI is located in Milwaukee, Wisconsin and is an ISO Certified facility complete with its own plastic mold injection plant consisting of state of the art robotic machinery. ATI has its own in-house tooling facility for a quick turn around on new product development. The testing facility, located in Iowa, warrants the safety and quality of ATI products, and is taking advantage of the advancements in synthetic polymer resin engineering. ATI's guiding principles are to provide high quality gunstocks and accessories for a vast variety of rifles and shotguns, to produce economical priced products that never compromise quality and develop products that are easy and safe to install onto your firearm. www.ATIgunstocks.com