Double Trap and Skeet Shooters Qualify for 2010 World Championship Team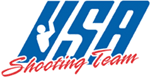 COLORADO SPRINGS, Colo. – The remainder of the 2010 World Championship team for shotgun was selected at the 2009 Shotgun Fall Selection Match yesterday in Kerrville, Texas. Nineteen Double Trap and Skeet shooters will represent the U.S. next summer in Munich, Germany.
The top three finishers from a combination of the match scores from the 2009 USA Shooting National Championships as well as the match and final scores from the 2009 Fall Selection make up the 2010 World Team.
U.S. Army Marksmanship Unit (USAMU) member Josh Richmond (Hilsgrove, Pa.), who is the 2009 Munich World Cup gold medalist, finished on top for the Open Double Trap Men with a total score of 627 targets. Richmond's USAMU teammate and 2008 Olympian Jeff Holguin (Yorba Linda, Calif.) grabbed second place with 621 total hits. Rounding out the Open Men's Double Trap team for next year's World Championships will be 16-year-old Billy Crawford (Johnstown, Ohio), who finished third with 619 targets.
Crawford also finished in first place for the juniors with a match score of 573 targets, but since he qualified for a spot on the open team, Derek Haldeman moved up into the top spot for the juniors after firing 557 targets. Ian Rupert (Sunbury, Ohio) finished second with 557 targets and Kelcey DePatis (Donovan, Ill.) took the third spot with 450 targets.
Shari LeGate (Peyton, Colo.) also qualified for a spot on the 2010 World Championship team in the Women's Double Trap event, which is only contested at the World Championships. LeGate finished with a match score of 437 targets.
USAMU member and 2008 Olympic gold medalist Vincent Hancock, who most recently won the gold medal at the 2009 Shotgun World Championships in August, claimed a spot on the 2010 World team by taking first place in the Men's Skeet event with 515 targets. Hancock's 2008 Olympic teammate Sean McLelland (Mission, Texas) grabbed the second spot with 508 targets and USAMU member Shawn Dulohery, a 2004 Olympian, took third with 506 targets.
Four-time Olympic gold medalist Kim Rhode (El Mote, Calif.) lead the way for the Skeet women with 508 total targets. Haley Dunn (Eddyville, Iowa) took second place with 505 targets and 2009 Shotgun World Championship Junior silver medalist Amber English (Colorado Springs, Colo.) grabbed the third spot with 497 hits.
Jon Michael McGrath (Tulsa, Okla.) took the top spot for the Junior Skeet Men with 506 hits, while B.J. Blanchard (Vidor, Texas) finished second with 503 targets. T.J. Bayer (College Station, Texas) earned the third spot after finishing with 499 targets.
Caitlin Connor (Winnfield, La.), the 2009 Minsk World Cup silver medalist, finished on top for the junior women with 484 targets. Brandy Drozd (Bryan, Texas) took second with 464 targets and Jaiden Grinnell (Port Angeles, Wash.) grabbed third place with 460 hits, rounding out the Junior Women's Skeet team.
The 2009 Shotgun Fall Selection Match was held at Hill Country Shooting Sports Center in Kerrville, Texas and was the second of two matches held to select the team for the 2010 World Championships in Munich, Germany and is also the first "entry gate" in the 2012 Olympic Selection Process. Twelve trap shooters were selected to the 2010 World Championship team on September 13.
The top three athletes in each event will participate in up to three World Cup competitions in 2010, where they can earn points based on their final standing in those events. Athletes who accumulate 45 or more points in 2010 and 2011 may be nominated to the 2012 Olympic Team, depending on the number of Olympic participation slots available in each event.
For complete results from the Fall Selection Match, please visit http://shootingandhunting.net/flyer6.htm