New Jersey Fall Turkey Season Opens October 26 2009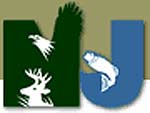 Trenton, NJ –-(AmmoLand.com)- New Jersey's 2009 Wild Turkey Fall Hunting Season begins Monday, October 26 and continues through Saturday, October 31. Great turkey hunting opportunities, fabulous weather and spectacular foliage all combine to make fall turkey hunting a wonderful autumn experience. Don't miss out this year. Leftover permits will be available over the counter for all of the turkey zones open for the fall season.
The Department of Environmental Protection's Division of Fish and Wildlife continually monitors the state's wild turkey population. This year's monitoring of productivity indicates production of young birds (poults) was fair to good, which bodes well for fall turkey hunters. Hunters should expect a decent density of juvenile birds in the forests and fields this fall.
A permit is required to hunt during the fall turkey season. Leftover Fall Turkey permits will be available beginning 10 a.m. on Tuesday, October 13 for the following Turkey Hunting Areas (THAs): 1, 2, 3, 4, 5, , 8, 9 10, 11, 20. 21 and 22.
These leftover and unclaimed permits will be sold on a first come, first served basis. Permits can be purchased via the on-line licensing system or at a license agent. The Pequest Trout Hatchery and Natural Resource Education Center is the only Division facility that sells permits. Permits cost $21.00 for each adult permit and $12.00 for each youth permit.
For more information on over-the-counter turkey permit sales call the 24-hour computerized permit hotline at 609-292-9192 or visit the Permit Information page at www.njfishandwildlife.com/permit_info.htm on the division's website. For information on wild turkeys in New Jersey visit www.njfishandwildlife.com/turkey_info.htm , also on the division's site.