Millennium M-100 Hang-On Tree Stand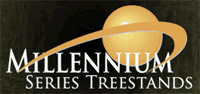 Pearl, Mississippi – -(AmmoLand.com)-Throughout the season, wind direction, food source accessibility and deer movement change constantly making it essential to frequently change your tree stand setup as well.
Unfortunately, not everyone has the time or the money to hang numerous tree stands, and moving one stand from tree to tree can be quite a hassle.
Thanks to the availability of extra Secure Receiver Chains with a Cam-Lock system, the Millennium M-100 Multi-System Hang-On Stand makes safely moving your stand a breeze.
Simply hang the special Cam-Lock receivers on trees throughout your property in areas frequented by deer. Then, on the morning of your hunt, pick your location. The specially designed male seat fitting slips into the Cam-Lock Receiver easily and quietly so you can be hunting within seconds. The Secure Receiver Chain with the Cam-Lock system ensures the stand is always safe and solidly secured to any location without penetrating or damaging the tree, unlike other similar models.
Designed for serious hunters, the M100 Hang-On is the ultimate platform for chasing down mature whitetails. Developed with input from the most ardent hunters, the M-100 features a comfortable one-piece Textiline® sling seat, which is UV-, moisture-, and scent-resistant and a large 38″L x20″W platform. Constructed of triangular tubing, the platform easily supports up to 300 pounds. Hefty 1,600-pound capacity platform cables keep even the "big guys" minds at ease during the hunt. Exclusively designed for The New Millennium, all-aluminum tubing and extrusions are fluted to reduce weight..
No bolts here, the stand features all-welded seams for superior strength and construction. The permanently mounted bungee strap keeps the folded stand securely closed during transport, and thanks to the feather-light, all-aluminum construction, the stand weighs only 14 pounds, which makes toting it to your hunting local a breeze.
Features:
Durable powder-coat finish
Comfortable, quiet, easy setup
GoLite, all-aluminum construction
ComfortTech contoured, tight Textilene® sling seat
Seat folds against tree providing entire platform for standing shots
Easily folds flat for backpacking
The stand and full-body harness are both TMA certified.
Lifetime warranty
Check out www.millenniumstands.com for more info.
About:
Hunting Solutions was founded in 1999 our mission is to provide hunters with safe, high quality products at a fair price. Hunting Solutions is dedicated to quality design and workmanship that can be seen in all our products. This is how we are able to offer an unlimited lifetime warranty.