Mule Deer Foundation Awarded Two Special Idaho Gray Wolf Auction Tags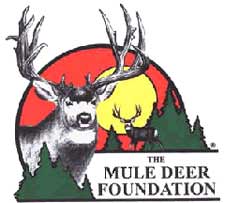 SALT LAKE CITY, Utah – -(AmmoLand.com)- The Mule Deer Foundation was awarded two Special Idaho Gray Wolf Auction Tags by the Idaho Fish and Game Department.
The tags will be auctioned through MDF's Web site. MDF was awarded tag numbers three and eight from a total of ten auction tags. Successful bidders will receive an Idaho Gray Wolf Hunting Tag with a serial number of 000003 or 000008, as well as a special framed Commemorative Idaho Gray Wolf Tag for display purposes.
The hunting permits will be valid for the 2009 Wolf Hunting Season. If a successful bidder has already purchased a wolf tag, they may exchange their unused wolf tag for a Wolf Conservation Auction tag.
These tags will play an important role in commemorating this historic event. Wolf restoration began in Idaho 15 years ago through management efforts of the State of Idaho, federal and tribal government agencies. The success of the wolf program has resulted in a wolf population in Idaho that is ten times larger than federal recovery standards. The Idaho wolf hunting program is designed to bring wolf numbers in line with habitat and prey availability.
Funds raised from these tags will generate proceeds for the Idaho Wolf Management Program. The funds will be used to help offset the cost of wolf management, including population monitoring, law enforcement, public education, enhanced deer/elk/moose monitoring and research.
To submit a bid for one of these historic tags, go to the MDF Web site (www.muledeer.org) for instructions and qualifications for bidding on these tags or call the MDF National Headquarters office at 1-888-375-3337. Hurry, as the deadline for auctioning these tags is September 28 at 5:00 p.m.
About MDF
The Mule Deer Foundation is a national non-profit 501(c)3 organization, with over 14,000 members. MDF's mission is to ensure the conservation of mule deer, black-tailed deer and their habitats. MDF is dedicated to restoring, improving and protecting mule deer habitat (including land and easement acquisitions) resulting in self-sustaining, healthy, free ranging and huntable deer populations; encouraging and supporting responsible wildlife management with government agencies, private organizations and landowners; promoting public education and scientific research related to mule deer and wildlife management; supporting and encouraging responsible and ethical behavior and awareness of issues among those whose actions affect mule deer; and acknowledging regulated hunting as a viable component of mule deer and black-tailed deer conservation.
For information about the Mule Deer Foundation please call 888-375-DEER (3337).