Sound Off On Obamacare Turns Into Opportunity To Discuss 2nd Amendment
"Guns Save Lives" stickers prove popular, spark debate at Mark Warner townhall meeting at Fredericksburg Expo Center.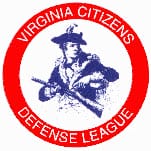 Virginia – -(AmmoLand.com)- Bruce Jackson emailed me this report about passing out "Guns Save Lives" stickers at a recent Mark Warner townhall event.
We, myself and the youngest, got there late, about 6:30, and started passing out the paper GSL stickers. We got about 3/4 through the first pass when they started. We finished by just making several passes through. Ended up giving out about 1000. The expo center folks estimated the crowd to be about 1400. They had set up 2200 chairs.
People asked about the blue GSL stickers I had in my backpack. Sold a few @ $1 ea.
I was approached by one women who stated "My nephew killed himself with a gun that was given to him by the chief of police so I find your sticker offensive." She then turned and started to walk off. I asked, "Are you going to give me a chance to respond?," but she kept walking. Emotion over logic in action…again.
When it got closer to the end of the event we took a position by the doors and hawked both the blue (old standard) and the orange (new round) bumper stickers.
Sold several of each. One person gave $5 for 1 sticker. Another handed me $20 and walked away. She came back about 10 minutes later and picked up one.
One woman approached me and made an inverse comparison between the size of my gun and a specific body part. Funny thing was, my holster was empty as the event was anti-gun (what is the inverse of zero anyway?). [PVC: Infinity. Nice complement you got there, Bruce ;-)]
One gentleman approached me and asked "How can you say 'guns save lives'?" I explained the study by Dr. Gary Kleck. He said he was on the other side of the issue, but it was something to think about and thanked me.
Several asked what guns had to do with heath care . . . I need a better sound-bite for that one. The explanation that health care bills could easily be used to overrun gun rights was more than many could comprehend. At least one looked at me like I was talking about space aliens and stated, "That could never happen!"
Total income for the VCDL $99.00. Total public relations value based on the hundreds of thumbs up received? Priceless!
About:
Virginia Citizens Defense League, Inc. (VCDL). VCDL is an all-volunteer, non-partisan grassroots organization dedicated to defending the human rights of all Virginians. The Right to Keep and Bear Arms is a fundamental human right. Vist: www.vcdl.org