Strong Prices Obtained at Collectors Firearms Auction Despite Continued Faltering Economy
Rock Island Auction Company's September Auction soared to nearly $8 million in sales! The auction contained many American treasures including several pieces from the Roy Rogers and Dale Evans Museum plus Winchesters, Colts, military items from the Civil War through WWII and sporting arms.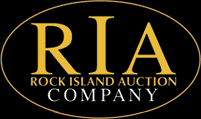 Moline, IL –-(AmmoLand.com)-Firearms enthusiasts from all over the world participated in Rock Island Auction Company's Premiere Firearms Auction on September 11, 12 & 13.
Strong bidding participation drove sales to nearly $8 million as firearms collectors took the opportunity to bid on and own the many museum quality items in this sale. As the value of firearms continue to hold true not only are buyers adding to their collections but ultimately investing in their future.
Once again strong prices were obtained for collectable firearms during a faltering economy with the high bid of $425,500 winning an extraordinary factory engraved, digital "1 of 1000" Winchester model 1873.
This 3 day sale proved highly successful with a 98% sell through rate, pleasing both buyers and sellers.
Several pieces of history were offered, among them were a rare historic and deluxe Tiffany & Co. Smith & Wesson .32 double action 4th model revolver exhibited by the factory at the 1893 "World's Columbian Exposition" in Chicago commanded a price of $103,500. Another centerpiece of this auction was a magnificent pair of highly embellished exhibition quality Adolph Frohn, Suhl Germany pistols that brought a high bid of $172,500. A magnificent presentation pair of exhibition grade, silver mounted, gold inlaid flintlock T. Dobson pistols made for the Sultan of Turkey sold for $69,000.
An American icon and investing favorite, over 500 Winchesters were offered in the September sell. Lot 1701, a very fine special order Winchester model 1876 deluxe lever action rifle sold for $23,000 while an outstanding Winchester model 1866 lever action rifle hammered above estimate at $25,875. A rare deluxe factory engraved New Haven Arms Co., Volcanic lever action no. 2 navy pistol with ivory grips earned $48,875.
Collectors with interest in the West and cowboy legend had a plethora of items to choose from. This auction offered firearms from the Roy Rogers and Dale Evans museum. The Cowboy star's fame drove prices, most of the items reaching above the high estimate. Both of the factory engraved Winchester model 21's presented to Roy Rogers sold within estimate at $46,000 and $43,125. Above estimate prices were attained on a Cole Agee engraved Colt SAA documented as being Roy Rogers "Holster Gun" ($23,000) and an elaborate custom relief engraved and gold-plated Colt SAA ($12,650). A documented historical Audie Murphy presentation to Roy Rogers Colt pre-war/post-war single action army revolver with factory letter garnered a price of $19,550.
The rare and quality derringers was led by a highly embellished exhibition quality factory cased gold inlaid Gaulois palm pistol ($17,250) followed by a factory engraved Southerner Derringer with ivory grips ($13,800). Another amazing piece from this collection was a magnificent relief silver eagle hilted Tiffany made sword from famous Flayderman / Medicus collection realizing $23,000.
Always a collecting desire, the 300 plus Colts in this auction brought strong bids leading with an above estimate bid of $28,750 for a cased custom engraved gold and silver inlaid Colt deluxe SAA by master engravers R.J. Smith & Siegfried Rentzchke. An exceptional black powder Colt frontier six shooter single action etched barrel revolver brought $40,250 and an outstanding Hartley & Graham engraved black powder Colt SAA with factory letter sold for $23,000.
The September auction was a perfect time for many sporting enthusiasts to expand their collection before the hunting season. The sporting arms in this auction featured the E. Warner Bacon Collection. A successful bid of $25,875 took home a scarce engraved and gold inlaid Ithaca Flues model Sousa grade double barrel 16 gauge shotgun with extra barrel. A desirable Winchester model 12 28 gauge skeet grade takedown slide action shotgun garnered $9,200, almost twice the low estimate! An exceptional Holland & Holland .375 H&H Magnum bolt action sporting rifle with scope hammered at $12,650.
The collection of Winchester Model 70's drew bidding interest to a total of over $300,000. Headlining was an exceptional Pre-64 Winchester transition model 70 bolt action carbine in rare and desirable .35 Remington caliber with factory box (sold $20,700) followed closely by an outstanding Pre-64 transition Winchester model 70 super grade bolt action rifle in rare 250-3000 Savage caliber with factory box (sold $14,950).
Of the over 500 military items in this auction the lugers did exceptionally well. Both a 1899 style Swiss test luger serial number "20" and an original DWM model 1902 luger carbine with matching stock sold above estimate for $48,875 & $34,500 respectively. Interest was also high in a rare Nazi presentation Walther PPK pistol with NSDAP shooting prize slide inscription, party leader grips and capture documents which secured a $28,750 bid.
Rock Island Auction ventured out of its normal arena of expertise and offered many Victorian era pieces including gambling items, slot machines, vintage advertising signs, ivory canes, spurs, back bar bottles and more. Of the slot machines a scarce character manufacturing company/ mills one arm bandit carved figure nickel slot machine stole the show selling for $7,475. A metal Oshkosh Brewing advertising sign reached $3,737.
As a whole the September auction was a success, with a high sell through rate and sales reaching nearly $8 million. This auction had something for every level of collecting with interested buyers setting the auction prices not a house reserve. The result was satisfied buyers and sellers alike, a valuable goal for any auction house.
Join RIAC for their upcoming auctions: the next Premiere Auction will be held December 4, 5 & 6. Rock Island Auction Company is currently seeking consignments. Consign one piece or an entire collection and know that you are consigning with the best. For more information on selling at auction contact Pat Hogan or Judy Voss at 800-238-8022.
For more information about the September auction please visit www.rockislandauction.com.
Top Lots by Prices Realized
LotNumber Headline LowEst HighEst PriceRealized
1003 Extraordinary Factory Engraved Winchester Model 1873 "1 of 1000" Lever Action Rifle with Deluxe xxxx Walnut $350,000.00 $650,000.00 $425,500.00
3011 Magnificent Pair of Highly Embellished Exhibition Quality Adolph Frohn, Suhl Germany Pistols $90,000.00 $140,000.00 $172,500.00
3194 Rare Historic and Deluxe Tiffany & Co. Smith & Wesson .32 Double Action 4th Model Revolver Exhibited by the Factory at the 1893 "World's Columbian Exposition" in Chicago $65,000.00 $90,000.00 $103,500.00
3018 Magnificent Presentation Pair of Exhibition Grade, Silver Mounted, Gold Inlaid Flintlock T. Dobson Pistols Made for the Sultan of Turkey $40,000.00 $60,000.00 $69,000.00
3186 Rare Deluxe Factory Engraved New Haven Arms Co., Volcanic Lever Action No. 2 Navy Pistol with Ivory Grips $37,500.00 $55,000.00 $48,875.00
1678 Interesting 1899 Style Swiss Test Luger Serial Number "20" $35,000.00 $45,000.00 $48,875.00
1466 Historic Factory Engraved Presentation Grade Winchester Model 21 Grand American Two-Barrel Trap Shotgun Presented To and Owned By Roy Rogers and Dale Evans From The Roy Rogers Museum Collection $35,000.00 $65,000.00 $46,000.00
3190 Magnificent Factory Cased and Engraved Smith & Wesson No. 2 Old Army Revolver $25,000.00 $37,500.00 $40,250.00
3067 Very Fine Civil War 3rd Regiment U.S. Veteran Volunteer Infantry Martial Inspected Henry Lever-Action Rifle $50,000.00 $70,000.00 $37,375.00
1237 Exceptionally Rare S. HAWKEN St. Louis Plains Rifle $20,000.00 $40,000.00 $37,375.00
3251 Fine New Haven Arms Company Volcanic Lever-Action Carbine $27,500.00 $42,500.00 $34,500.00
1667 Exceptional Original DWM Model 1902 Luger Carbine With Matching Stock $15,000.00 $22,500.00 $34,500.00
3040 Rare Civil War U.S. Contract Martially Inspected Henry Lever-Action Rifle $27,500.00 $42,500.00 $31,625.00
1001 Henry Lever Action Rifle $18,000.00 $27,500.00 $28,750.00
1164 Cased Custom Engraved Gold and Silver Inlaid Colt Deluxe Single Action Army Revolver by Master Engravers R. J. Smith and Siegfried Rentzchke with R. L. Wilson Letter $17,000.00 $27,500.00 $28,750.00
1315 Scarce Engraved and Gold Inlaid Ithaca Flues Model Sousa Grade Double Barrel 16 Gauge Shotgun with Extra Barrel $15,000 $20,000 $28,875
1448 Exceptional Deluxe Winchester Model 1906 Slide Action Rifle $10,000.00 $15,000.00 $25,875.00
Top Lots by % Over the Low Estimate
LotNumber Headline LowEst HighEst PriceRealized % over low
220 Winchester Model 12 Slide Action Shotgun From the Roy Rogers Collection $600.00 $800.00 $4,312.50 618.75%
1284 Rare Special Order Pre-64 Winchester Model 70 Featherweight Bolt Action Rifle In 250-3000 Savage $3,000.00 $4,000.00 $20,700.00 590.00%
3541 Large Interesting Cutaway Training Model of 1919A6 Machine Gun Instructional Cutaway $1,000.00 $2,000.00 $6,325.00 532.50%
1305 Special Order Pre-64 Winchester Model 70 Featherweight Bolt Action Rifle $1,500.00 $2,500.00 $9,200.00 513.33%
3817 Smith & Wesson Model 41 Semi-Automatic Target Pistol with Extra Magazines and Barrels $800.00 $1,100.00 $4,312.50 439.06%
3719 Smith & Wesson Pre Model 27 Double Action Revolver Owned By Famous Cowboy Star Roy Rogers $1,000.00 $1,500.00 $5,175.00 417.50%
357 Three Underhammer Percussion Pistols -A) Shaw & Ledoyt Underhammer Pistol
B) E.C. Burden Underhammer Pistol
C) A. Ruggles Underhammer Percussion Pistol $800.00 $1,100.00 $4,025.00 403.13%
3196 U.S. Marked Smith & Wesson New Model 3 Single Action Revolver $1,000.00 $1,500.00 $4,887.50 388.75%
3347 Early Parker Hammer #019 Side by Side Damascus Double Barrel Shotgun in 14 Gauge $1,200.00 $2,000.00 $5,750.00 379.17%
3713 Excellent Smith & Wesson First Model Single Shot Pistol $900.00 $1,300.00 $4,312.50 379.17%
3730 Smith & Wesson Pre-Model 27 357 Magnum Revolver Owned By Famous Cowboy Star Roy Rogers $700.00 $900.00 $3,162.50 351.79%
3829 Colt Diamondback Double Action Revolver with Ivory Grips and Original Factory Box $650.00 $800.00 $2,875.00 342.31%
3687 RARE WWI U.S. Stage Women's War Relief Poster by James Montgomery Flagg $1,000.00 $1,500.00 $4,312.50 331.25%
3547 Smith & Wesson Model 916 Shotgun with Trench Handguard, U.S. Property Markings and Bayonet $1,000.00 $1,500.00 $4,312.50 331.25%
271 Winchester Pre-64 Model 70 Featherweight Bolt Action Rifle $950.00 $1,400.00 $4,025.00 323.68%
274 Special Order Pre-64 Winchester Model 70 Bolt Action Rifle $1,500.00 $2,250.00 $6,325.00 321.67%
1330 Engraved and Gold Inlaid Ithaca NID Grade 5 Side by Side Hammerless Shotgun With Ejectors $2,000.00 $3,000.00 $8,050.00 302.50%
3688 Framed Rare WWI Irish "Avenge The Lusitania" Recruiting Poster $800.00 $1,300.00 $3,162.50 295.31%