This Week: Bob cuts the cards with small bullets. Then Speed Racing at the US Steel Championships.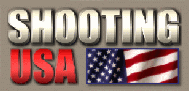 Shooting USA's Impossible Shots – Split Decision
Bob Munden attempts to counter the idea that it's harder to split a playing card with a small bullet than with a big one. Jerry Miculek shows off his amazing ability to reload a competition shotgun. Fast Draw champion Cisko tries a triple tap with live ammo. And Mr. Flintlock tries to scramble an egg at 100 yards. Brian Speciale reports the stories of the world's best pro shooters.
Shooting USA – The US Steel Championship
We're in Florida with the fastest steel shooters in the country, banging and clanging over the course of the three days that make up the US Steel Championship. It's the fastest of the pistol sports as the leaders fight for every second. Then Todd Jarrett is with us with a Pro Tip for all the new owners with their ARs.
Sighting In with Shooting USA – The Guns of The US Steel Championship
We're sighting in on the new technology seen in the guns at the US Steel Championship. Yes, it's about speed, but it's also about reliability. Then Greg, John, and Carlos take on the media match steel shoot. And we reveal another title in the top ten Hollywood Gunfights.
Shooting USA's Impossible Shots by time zone:
Eastern Time: 7:00 PM, 11:30PM, 2:00 AM (Thursday)
Central Time: 6:00 PM, 10:30PM, 1:00 AM (Thursday)
Mountain Time: 5:00 PM, 9:30PM, 12:00
Midnight Pacific Time: 4:00 PM, 8:30PM, 11:00 PM
The Shooting USA Hour Block:
Eastern Time: 4:30 PM, 8:30 PM, 12:30 AM
Central Time: 3:30 PM, 7:30 PM, 11:30 PM
Mountain Time: 2:30 PM, 6:30 PM, 10:30 PM
Pacific Time: 1:30 PM, 5:30 PM, 9:30 PM
Same times every week, Wednesdays on Outdoor Channel
And the August Gun goes to…
Wayne Brandon of Texarkana, Arkansas. Wayne will be transferring his Walter PPS 9mm carry pistol at J Plate, gunsmith and FFL holder in Texarkana.
The September Gun…
It's the new M&P-15 – 22 and we're getting a record number of entries for September. Remember the limit – one entry per person per week. But don't miss entering your five chances in this five week month.
Henry's New Catalog:
If you don't have the newest catalog of the smooth action Henry Repeating Arms lever action rifles, click here to get it mailed free to your address. I recently shot a Henry Big Boy in .45 Colt in a cowboy action match and it shot way better than I did. Get the free catalog of the all American Made Rifles from Henry.
Jim Scoutten – www.ShootingUSA.com