USAMU Instructer William O. Harden Retires After Serving This Nation For 52 Years
By Michael Molinaro
USAMU PAO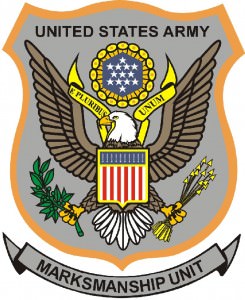 FORT BENNING, Ga. —-(AmmoLand.com)- After serving the country for 20, 25, or even 30 years, settling into a relaxing retirement is the ambition of most. After more than 50 years, a civilian with the U.S. Army Marksmanship Unit said it's finally time to mow the lawn.
A career dedicated to ensuring that the American soldier would be the most lethal war fighter on the planet came to rest when William O. Harden retired after serving this nation for 52 years.
"W.O.'s lifetime of service with the United States Army Marksmanship unit is almost a complete reflection of its history," said Lt. Col. Daniel Hodne, commander, USAMU. "He has been an instrumental part of every one of the unit's weapons development projects. A vital unit function to the Army in an effort to increase its combat readiness and a vital unit function to the nation as it is not always foreseeable when we may find ourselves fighting a long war."
Known as 'Papa' to those who work with him, Harden has been with the unit for 49 of its 53 years of existence. He entered the Army as a Soldier in 1957 and immediately showed his prowess with the rifle. His climb to the USAMU started on a company-level two-man rifle team and continued until a piece of paper came across his desk in 1960 that changed his life forever.
"When I got a set of orders assigning me to the (USAMU) you can't believe how high my morale was to know I was walking into a unit known worldwide, the 'Home of Champions'," Harden said. "You had to work your way from the bottom to the top to get to the great Army Marksmanship unit. That was everybody's goal—to get assigned to the (USAMU).
He served a tour in Vietnam in 1967 before returning to the USAMU. He gradually made the move from the service rifle team to the custom firearms shop and became the noncommissioned officer-in-charge of the shop in 1975 until his retirement from the active Army in 1982 as a master sergeant. He was hired as the chief of the custom firearms shop six months later.
Under Harden's tutelage, the custom firearms shop has equipped Soldiers with specially modified and accurate weapons to increase their effectiveness on the battlefield. He led teams that developed all of the M21 Sniper System for Vietnam, said Bob Aylward, executive officer, USAMU. He led the team that planned and supervised the testing and evaluation of 16 prototypes for the M24 Sniper system. The modified M16A4, designed by Harden's team for competition, has become the weapon of choice for special operations Soldiers.
"His ability to personally think, as well as form a team around him that could think for tomorrow, was extraordinary," Aylward said, who has worked with Harden since 1973. "His team is in the business of deeming what is needed in the future, developing the idea and in many cases creating the item and testing it."
Dedicated and hardworking are the two words Harden said he hopes people remember him by. He is very proud of how much he and his team stressed safety during his career, never having a catastrophic weapons or ammunition failure. His old-school demeanor may have scared a private or two at first but those that worked with him understood the real W.O. that many who met him briefly may have never known.
"The side of him I admired the most was when he would hear about one of his Soldiers or civilian employees having a hard time and very quietly give them help, with a threat to 'keep it quiet'," said Sgt. 1st Class John Haidu, USAMU custom firearms shop NCOIC. "He never helped anyone to get recognition for it. He was always there for his guys and sincerely cares about all the members of this unit and the Army as a whole. He is a patriot."
With the boxes in his office packed and the custom firearms shop now firmly in the capable hands of Haidu and Steve Young, who Harden took under his wing in 1991 and provided mentorship until his final day on the job, Harden isn't about to settle down in a recliner. Not if his boss has it her way.
"I'm going to complete the unit library and get it up to standard," Harden said. "But I've got some things I have to do first. My wife told me to go get a job. So I'm going to paint the house and do some yard work that I haven't done in years."


About USAMU:
The USAMU's mission is to raise the standard of marksmanship proficiency and combat readiness throughout the Army by sharing knowledge gained from competing and winning in national/ international competitions, research and development and advanced training programs while enhancing the Army's recruiting effort through an active public information and public relations program. For more information on the U.S. Army Marksmanship Unit, contact the Public Affairs Office at (706) 545-5436, [email protected] or www.USAMU.com . The U.S. Practical Shooting Association is a nonprofit membership association affiliated with the International Practical Shooting Confederation, which is comprised of approximately 67 nations.