Wilson Combat Classic 130 Master Grade 1911 Pistol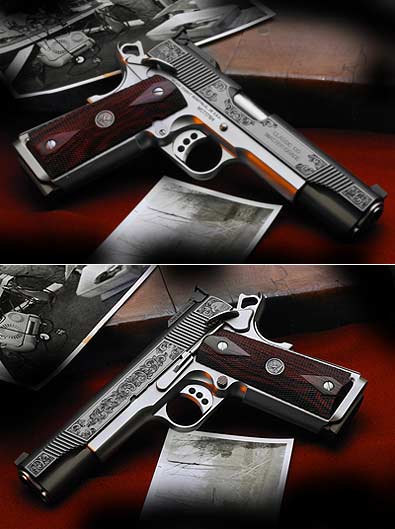 Berryville, AR – -(AmmoLand.com)- Over the past few years we have been working with an engraver that has done some truly lovely work for us that you our customers now enjoy. After he finished up his last project we talked for a while and a concept was born for a truly remarkable pistol.
These special pistols call on over 150 years of combined gunsmithing experience to build a master piece. Beginning with all of the finest components available held to the strictest standards, placing them in the hands of our most skilled gunsmiths, hand fitting one part at a time until it works together like a well tuned race engine. That alone makes it one of the finest pistols available anywhere, but we are not done yet. The sculpted scroll engraving on the slide is breath taking with deep and exceptional detail. While it is often said seeing is believing, when you look at the detail on the slide you will know what breath taking truly is. The beautifully engraved slide was expertly charcoal blued by Doug Turnbull Restorations bringing the engraving to life. Placing this slide atop the stainless frame makes for an exceptionally striking custom pistol.
Engraved charcoal blue slide over a stainless frame with adjustable sights, match barrel and bushing, ambidextrous safety, and speed-chute makes this beautiful pistol also have all of the features you want in your custom pistol.
I could say so much more, but I will let the photos speak for this wonderful pistol.
This will be an extremely limited offering and will be featured in an upcoming book: "The 1911, The First 100 Years", so they are very special. They will be sold on a first come first served basis. If this pistol is what you have always wanted, please contact us as soon as possible as there will only be a few.
I hope you have the chance to enjoy the fall shooting season. It is a great time to be on the range, the weather is nice and the days are still long enough to get some shooting in. Let us know if we can be of any service to you with any of your shooting needs.
About:
Founded in 1977, Wilson Combat has grown to include more than 50 employees – no one else in the custom gun business has as many professionals, as many years of experience, or as much history with hand-crafting custom guns as we do. Here's an idea of the type and number of years experience you will find at Wilson Combat.