AZ Game and Fish Offers New Education Resources and Opportunities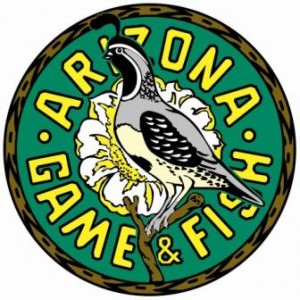 Arizona – -(AmmoLand.com)- Make the web work for you with these exciting new resources!
1) Find us on Facebook
Focus Wild Arizona, the Department's environmental and wildlife education program, has joined the social networking movement. we now have an active presence on Facebook. Visit http://www.facebook.com/focuswild and become our fan today!
As a fan, you will be kept more current about upcoming events and new resources, be able to network with other educators passionate about wildlife, and participate in discussions to improve our programs and resources. Stop by and introduce yourself!
2) Live FishCam has launched
Earlier this year, the Department launched a live fishcam. This underwater camera is streaming live video of native fish 24 hours a day from the Bubbling Ponds Fish Hatchery near Sedona. The camera is periodically moved to highlight different fish. You never know what you might see. Is that a razorback sucker "kissing" the camera? Was that a loach minnow darting across the screen? Visit http://www.azgfd.gov/fishcam now to find out for yourself.
In the near future, suggested activities will accompany the fishcam so your students can study animal behavior. In the meantime, you can test your student's observation and identification skills by having them watch the video for specific amounts of time, noting the different actions of the fish. You can also have them watch video archives.
Be warned: logging on to http://www.azgfd.gov/fishcam has been known to suck hours from your day, patiently waiting for the next "big thing" to happen!
3) High school science and social studies teachers needed
The environmental education section is putting the finishing touches on the first draft of a brand new curriculum unit. This unit will focus on what is now being termed the North American Model of Wildlife Conservation. Put simply, it addresses the history of wildlife management and conservation in the United States. Currently, it is designed for high school science or social studies classrooms. Students will have the opportunity to study famous conservationists and the major events that kept North America's wildlife heritage thriving.
This unit has generated interest at a national level and will likely play a large role in other state and national wildlife management agencies. Starting around November, we will want a few teachers to pilot the 5-lesson unit. Reviews will be due to us by February 1. So, if you are a high school science or social studies teacher and are interested in participating, please send an email to [email protected] expressing your interest in this program.
4) Wildlife Center Open House is back
Come see what we are all about! The Adobe Mountain Wildlife Center, the Department's animal rehabilitation facility, is bringing back its highly popular Open House. And the best part: it's FREE!
Join us on Saturday, November 21 and Sunday, November 22 from 10am to 3pm for an opportunity to learn about native Arizona wildlife and some of the education programs offered by the Department. Watch live wildlife education programs. Try your luck casting at a fishing activity. Talk with Department staff at the numerous booths and displays. Take a self-guided tour of the facility.
The Wildlife Center is part of the Adobe Mountain Juvenile Center complex located at the northwest corner of Pinnacle Peak and I-17 in north Phoenix. To get there, take I-17 to Pinnacle Peak (exit 217). Head west. Turn right into the Adobe Mountain Juvenile Center. Proceed to the special event parking.
Parking and admission are free and food will be available for purchase.
For more information, download the flyer, visit http://www.azgfd.gov/wildlifecenter, or call 623-582-9806.
5) New season of television show available online
Did you know that the Department has its own television show that airs on many local PBS and other government access stations? But, you don't have to wait to catch the latest episode. You can watch them whenever you want.
All 13 episodes of the upcoming season of Arizona Wildlife Views are now available online through YouTube. Visit http://www.azgfd.gov/tv to watch them. In addition, every past episode back to 2005 can be found in the archives.
The Emmy-winning television show features Arizona wildlife, outdoor recreation activities, and the Department's management activities. You won't be disappointed. And it is a great way to bring wildlife into your classroom.
About:
The Arizona Game and Fish Department prohibits discrimination on the basis of race, color, sex, national origin, age, or disability in its programs and activities. If anyone believes that they have been discriminated against in any of the AGFD's programs or activities, including employment practices, they may file a complaint with the Deputy Director, 2221 W. Greenway Rd. Phoenix, AZ 85023, (602) 942-3000, or with the Fish and Wildlife Service, 4040 N. Fairfax Dr. Ste. 130, Arlington, VA 22203. Persons with a disability may request a reasonable accommodation or this document in an alternative format by contacting the Deputy Director as listed above.