Backwoods Life TV On Pursuit Channel Signs Sponsorship Agreement With Muzzy
Backwoods Crew to exclusively use Muzzy products as the hunting industry legend becomes a segment sponsor on the popular Pursuit Channel program.
Hahira, GA – -(AmmoLand.com)- Backwoods Life Television, airing Mondays and Tuesdays on the Pursuit Channel, announced today it has signed an official sponsorship agreement with hunting industry legend Muzzy.
Under the terms of the agreement, Muzzy will become a Backwoods Life TV segment sponsor for 2010 and 2011 and will focus on bringing awareness to their superior line of hunting products. With Backwoods Life TV now airing on the Pursuit Channel in prime time, the highly-rated hunting show gives Muzzy a very effective marketing platform to showcase the Muzzy brand.
The entire Backwoods Life TV crew, also called The Backwoods Boneheads, will exclusively use "Bad to the Bone" Muzzy Broadheads and Muzzy's highly-effective scent products during the filming of the popular TV show's hunts.
The Backwoods TV hosts Michael Lee, Trey Wetherington, and Kevin Knighton have had a strong relationship with Muzzy for many years and are sold on the toughness of Muzzy Broadheads. Some of the exciting trophy whitetail bowhunts from Backwoods Life TV have even been featured on the action-packed Muzzy Bad to the Bone Bucks DVD series.
"Muzzy has been a hunting industry leader with their line of superior broadheads for over 25 years." said Michael Lee, host of Backwoods Life TV on the Pursuit Channel, "We are thrilled to be associated with such a well-known and respected product manufacturer. Our viewers can see for themselves just how effective Muzzy products are under extreme hunting conditions when they watch Backwoods Life TV."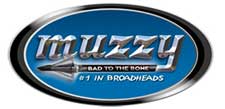 Muzzy Broadheads are legendary for their "Bad to the Bone" dependability and true flight. Backwoods Life TV encourages hunters to try the Muzzy brand of industry leading hunting products used during their show.
About Muzzy
Based in Cartersville, GA, Muzzy has been a hunting industry leader in designing and manufacturing the toughest "Bad to the Bone" broadheads available. Muzzy Broadheads have earned a legendary reputation for superior strength and extreme accuracy. They combine high-grade aircraft-aluminum ferrules with scalpel-sharp blades for complete integrity in even the heaviest game. And the unique hollow-ground Trocar tip has become the standard for dependable bone-splitting performance. For over 25 years, Muzzy has continued to innovate not only with broadheads, but with bowfishing equipment, and a line of highly-effective scent products. For more information, visit Muzzy on the web at: http://www.muzzy.com.
About Backwoods Life TV on the Pursuit Channel
If you're looking for another boring outdoor show, then turn the channel. Backwoods Life TV, formerly Southern Backwoods Adventures, was developed in 2004 when three guys banging their heads together said, "Since we are going hunting and fishing anyway, let's try to make some great video of it!" Since that day the Backwoods Life TV team of Michael Lee, Kevin Knighton, Trey Wetherington, among others, have dedicated their time and efforts into producing the highest quality outdoor television and video entertainment for you, the viewer, to enjoy. With a 100% real "in your face" approach to the outdoors, their efforts have evolved into a national television show that now airs on the Pursuit Channel. For more information about Backwoods Life TV, please visit: http://www.BackwoodsLife.com.