California Governor Signs Pro-Hunting Bill into Law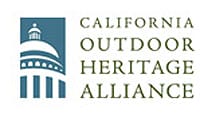 Sacramento, California –-(AmmoLand.com)- On October 11th, Governor Arnold Schwarzenegger signed Assembly Bill 1423, a measure authored by Assembly Member Tom Berryhill (R-Modesto) that significantly reduces existing commercial hunting club license fees; promotes full implementation of California's "public access to private lands" hunting program (SHARE); and expands and increases penalties for willfully interfering with hunting, fishing, trapping, falconry and recreational shooting activities. AB 1423 was sponsored by the California Outdoor Heritage Alliance (COHA).
"I'm proud of the work we've done on AB 1423," stated Assembly Member Berryhill. "This is an important bill which will substantially promote hunting opportunities in our state and help protect hunters in the field. It was a pleasure working with the staff of the California Outdoor Heritage Alliance (COHA) and, while the bill was met with its share of resistance, this is a victory for Californian's who share a common affinity for outdoor recreation."
AB 1423 will help maintain and improve hunting opportunity in our state by keeping hundreds of commercial hunting operations across the state in business. Specifically, AB 1423 will control fees assessed to commercial hunting clubs by prohibiting the California Department of Fish and Game (DFG) from charging a separate permit fee for each individual property or parcel used for commercial hunting purposes. Prior to AB 1423, commercial hunting clubs were charged $376 for each property in their control, putting some larger clubs at risk by subjecting them to several thousands of dollars in annual fees. AB 1423 eliminates DFG's current fee schedule, instead establishing a much lower sliding scale fee structure ranging from $200 for one property managed by a club to a maximum of $2,000 annually for 11 or more properties per club.
Additionally, AB 1423 will facilitate full implementation of the Shared Habitat Alliance for Recreational Enhancement (SHARE) Program – a "public access to private lands" hunting program – and greatly facilitate its ability to attract federal funding made available in the 2008 Farm Bill. Under AB 1423, the SHARE Program will now be allowed to expand from what is currently a small, regional pilot program for waterfowl to a statewide hunting access program for all game species. AB 1423 will help SHARE provide California's public with relatively low cost, high quality hunting access to the lands of willing private landowners throughout the state.
Lastly, AB 1423 strengthens the criminal penalties for members of the public interfering with hunting, fishing, trapping, falconry and recreational shooting so that it may be prosecuted as a misdemeanor on the first offense. Additionally, AB 1423 expands the definition of lawfully protected activities to include hunting dog training and field trials. The bill also specifically bans such actions as 1) placing gates or barricades to block access to public lands without authorization and 2) placing bait on property so as to prevent lawful hunting.
"AB 1423 clearly demonstrates COHA's commitment to making positive change on behalf of sportsmen and women in California," stated Jason Rhine of the California Outdoor Heritage Alliance. "By working together, hunters can help ensure that future generation will have an opportunity to take part in our hunting heritage.

About:
The California Outdoor Heritage Alliance is a 501(c) 4 non-profit political advocacy organization dedicated solely to the promotion of wildlife and the protection of our hunting heritage. COHA professional staff is active at the California State Legislature, Congress, State Fish and Game Commission, State and Federal resource agencies and all other political arenas where decisions are made which may impact wildlife management, habitat conservation, wildlife program funding, hunting access and opportunity, and your ability to purchase and possess sporting arms and munitions. COHA was created in early 2006 by the California Waterfowl Association. For more information on COHA and its efforts, visit their website at www.outdoorheritage.org