Junior Shooters Learn From The Best
By Michael Molinaro
USAMU PAO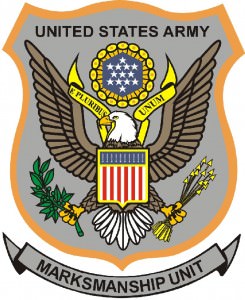 FORT BENNING, Ga.—-(AmmoLand.com)- After spending all day in school, learning about math and social studies, most children can't wait to get home and start playing with their friends. Two days a week, however, some kids from the area descend on Fort Benning to continue their education from the best in the business with an eye to towards their future.
The Fort Benning Junior Rifle club, started in the 1970s, was formed to help junior shooters raise their level in competitive shooting and assist them in getting recognized by college coaches. It is organized and run by members of the U.S. Army Marksmanship Unit's International Rifle team, whose roster includes Olympians and national champions.
"The kids are extremely motivated," said Staff Sgt. Armando Ayala, the club's head coach. "These shooters are exposed to the USAMU work ethic and our accomplishments, and it really motivates them."

FORT BENNING, Ga.--Spc. David Sprecher, U.S. Army Marksmanship Unit, monitors a group of young boys as they take part in a practice session at the Fort Benning Junior Rifle Club at Pool Indoor Range. (Photo by Michael Molinaro, USAMU PAO)
There are 52 kids in the club this year, Ayala said, which is almost double the number of shooters from last year. There are two training sessions a week during the school year with a break during the winter holidays. Besides Ayala, who attends every training session, two of his teammates rotate from week-to-week, allowing the students a chance to work with the entire IR team.
"We teach shooters from beginners all the way to advance levels," he remarked. "We essentially take them from never shooting to the U.S. National junior team-level."
The biggest reward for the juniors is that they have been able to take the skills and lessons learned as members of the club and translate that into success geared toward their futures, Ayala remarked. The West Point Academy has tapped into the program and recruited future officers through the academy's shooting team, and many former and future members made the military their career choice after being tutored within the military environment.
Coaches from Columbus State, University of Kentucky, Memphis University, Texas Christian University, Nebraska and others have scouted the club's members and brought scholarship offers with them.
"This is a ton of fun," said Mackenzy Crawford, 14, of Columbus. "I started shooting when I was six and wanted to join the school's rifle team, so I needed to get practice and coaching here."
Crawford said he has improved tremendously in a short amount of time. He has gotten a lot more comfortable in his stance and has learned how to sight his target more properly. This is his first year in the club.
The club members compete in a number of matches year-round. The biggest matches are sanctioned by USA Shooting, including the national championships and spring and fall selection matches for juniors. They also travel to Camp Perry, Ohio each summer to compete in the Smallbore National Championships and compete in regional postal and invitational matches.
"To see our juniors develop into motivated young citizens and accomplish great things is very rewarding," Ayala said. "I know what they learn here they carry into all aspects of their lives because the examples set for them affect their lives. What we do here really inspires and motivates young people."

FORT BENNING, Ga.--Staff Sgt. Armando Ayala, U.S. Army Marksmanship Unit, shows the proper positioning to Breanna Kasl, a member of the Fort Benning Junior Rifle Club, at Pool Indoor Range. Kasl hopes to attend the West Point Academy after high school and compete on its shooting team. (Photo by Michael Molinaro, USAMU PAO)
About USAMU:
The USAMU's mission is to raise the standard of marksmanship proficiency and combat readiness throughout the Army by sharing knowledge gained from competing and winning in national/ international competitions, research and development and advanced training programs while enhancing the Army's recruiting effort through an active public information and public relations program. For more information on the U.S. Army Marksmanship Unit, contact the Public Affairs Office at (706) 545-5436, [email protected] or www.USAMU.com . The U.S. Practical Shooting Association is a nonprofit membership association affiliated with the International Practical Shooting Confederation, which is comprised of approximately 67 nations.