Legislation Signed to Protect the Use of Hunting Dogs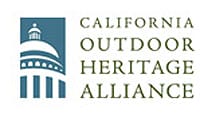 Sacramento, CA –-(AmmoLand.com)- Two separate state bills were recently signed into law to protect hunters using dogs from anti-hunting activity. The measures, which take effect January 1st, were sponsored by the California Outdoor Heritage Alliance (COHA) and supported by the California Houndsmen for Conservation (CHC), U.S. Sportsmen's Alliance (USSA), California Retriever Training Association (CRTA), and National Open Field Coursing Association (NOFCA).
AB 1423 (Berryhill) will make it a crime to willfully interfere with hunting dog training and related hunt tests and field trials, while AB 1442 (Huffman) will make it unlawful to remove a collar from a hunting dog in the field without written permission from the owner. Both provisions could be punishable as misdemeanors on the first offense, with violators facing a possible six months in jail and/or a $1,000 fine.
"The use of dogs in hunting is not only an important conservation tool, but greatly enriches the overall hunting experience," stated Mark Hennelly, Vice President of COHA. "In our view, every effort should be made to increase the legal protections for that time-honored practice."
The measures come in response to recent incidents across the country and in California of members of the public harassing licensed hunters afield with their dogs, particularly hunters who are training their dogs on game birds or mammals prior to hunting season. In most cases, the offending individuals personally disapproved of hunting or training dogs on live animals.
In several incidents, individuals removed tracking collars and left them in the woods in an attempt to keep hunters from recovering their dogs. This action not only disrupted hunting activities, but jeopardized the retrieval and safety of the dogs.
On a related note, two other state measures opposed by COHA, CHC, NOFCA, CRTA and USSA that would have negatively impacted hunting dog breeders were vetoed by Governor Schwarzenegger. AB 241 (Nava) would have banned large-scale dog breeding operations. AB 1122 (Lieu) would have prohibited the sale of dogs on certain property open to the public.
"We're extremely pleased with the passage of these two important measures," said Evan Heusinkveld, director of state services for the U.S. Sportsmen's Alliance. "Coupled with the Governor's veto of AB 241 and AB 1122 and the failure of the spay/neuter bill, it's been a good few weeks for California sporting dog owners. This is a testament to the hard work and dedication of California's sporting dog community."
"It is pleasing to see bills signed into affect which protect the working dogs of hunters and others afield," said California Houndsmen for Conservation President, John W. Kunkle. "The anti-hunting movement has proven to be such a menace to not only the traditional American hunter but to most of the very animals they allegedly wish to protect. The California voting public at large recognizes this and I am proud to see the Governor take measurable positive action. I hope this type of reasonable conduct and genuine concern for true working animals continues from the public as well as our legislatures."
About:
The California Outdoor Heritage Alliance (COHA) is a 501(c) 4 nonprofit political advocacy organization founded by the California Waterfowl Association (CWA) to protect our hunting heritage and promote wildlife conservation. For more information, visit www.outdoorheritage.org/