Michigan Gun Owner Frequently Asked Questions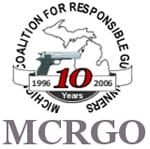 Q: Is it true that a church or other place of worship in Michigan is not considered to be a place on the so-called "Pistol Free Zones" list when it is not being used for active church purposes?
A: No. It is not true. MCL 28.425o states that the list of places where your CPL does not apply includes: "(e) Any property or facility owned or operated by a church, synagogue, mosque, temple, or other place of worship, unless the presiding official or officials of the church, synagogue, mosque, temple, or other place of worship permit the carrying of concealed pistol on that property or facility." This would seem to include church camps, softball fields etc. regardless of whether there are religious or secular activities (or no activities) being carried on.
This law also raises another interesting question: Who is the presiding official? In my practice, I have had churches as clients and I can tell you that it is not always clear what individual or body within the church has the authority to grant the kind of permission mentioned above. Churches have various, differing corporate structures. In one case, I worked with a church that had two boards: spiritual and temporal. The spiritual board was tasked with hiring and firing the pastor and other religious matters. The temporal board was tasked with dealing with financial and legal issues.
In that particular church, only the temporal board would have the authority to grant permission to carry a concealed pistol on church property. In other churches, the pastor may have the authority to grant such permission. So, be sure that you are dealing the the appropriate church official when obtaining permission to carry concealed on church premises.
Note also that the statute does not say that the permission must be in writing. However, it may be considered a prudent step to ask for a signed letter on church letterhead memorializing the grant of permission.
I have had contact with churches that have a group of volunteers with CPLs (Concealed Pistol Licenses) who are tasked with carrying their pistols at services on a weekly basis, in much the same way that other lay volunteers set up schedules for their duties. Some others take the position that guns are not welcome on their property. As private property owners, churches are free to make this decision and anyone who carries in violation of such a church policy would be in violation of MCL 28.425o and have the status of trespasser.
About:
Steve Dulan (www.StevenWDulan.com) is a member of the Board of Directors of the MCRGO and the MCRGO Foundation, and a member of the Board of Trustees of the MCRGO Foundation. He is an attorney in private practice in East Lansing and Adjunct Professor of firearms law at The Thomas M. Cooley Law School. as well as an NRA Life Member.
About:
The Michigan Coalition for Responsible Gun Owners is a non-profit, non-partisan organization. Formed from just eight people in 1996, we now have thousands of members and numerous affiliated clubs across the state. We're growing larger and more effective every day.
Our mission statement is: "Promoting safe use and ownership of firearms through education, litigation, and legislation"