National Rifle Association Honors Corpus Christi Friends of NRA Committee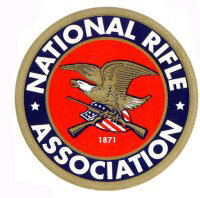 FAIRFAX, VA –-(AmmoLand.com)- The National Rifle Association recently recognized the STX-01 Committee from Corpus Christi, Texas, as winner of the 2008 Most Outstanding Friends of NRA Committee award at its September Board of Directors meeting.
Friends of NRA is a grassroots fund-raising program that fosters community involvement, raises money and gives 100% of the net proceeds to qualified local, state, and national programs. Since the inception of the program in 1993, Friends of NRA has awarded over 140 million dollars to promote shooting sports throughout the United States.
The Most Outstanding Friends of NRA Committee Award is presented each year to the Committee that raises the most funds at a single Friends of NRA event. STX-1 Friends of NRA Committee from Corpus Christi, Texas, led the nation in 2008 by raising over $188,000 in net income. Through 2008, they have raised an astounding $ 1,415,671 for The NRA Foundation and had almost 12,000 attendees.
"It's because of the leadership and dedication of people like Laura Berry, Chairwoman of the STX-01 Committee, that we can effectively promote the shooting sports and all NRA programs to gun owners everywhere," said NRA Executive Director Kayne Robinson.
The NRA's National Awards Program was established in the 1980s to recognize the exemplary service of those persons who support the NRA in areas such as legislative affairs, club operations, women's and youth programs, and fund-raising activities.
For more information on Friends of NRA and the Most Outstanding Friends of NRA Committee award, go to www.friendsofnra.org or call the NRA at 703/267-1595.
About:
Established in 1871, the National Rifle Association is America's oldest civil rights and sportsmen's group. Four million members strong, NRA continues its mission to uphold Second Amendment rights and to advocate enforcement of existing laws against violent offenders to reduce crime. The Association remains the nation's leader in firearm education and training for law-abiding gun owners, law enforcement and the military.