Quail Forever Growing Chapters and Coveys in Nebraska
New QF Chapter Organizes in Howard County to Help Burgeoning Quail Population.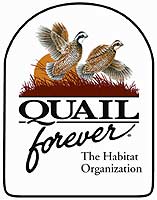 Boelus, Neb. –-(AmmoLand.com)- A group of Howard County residents have formed the nation's newest chapter of Quail Forever (QF). The group, called the Central Nebraska Chapter of QF, plans to improve area habitat as they help the local population of bobwhite quail continue its rapid growth.
"Considering the tough times bobwhite quail are having due to habitat losses across much of the U.S., all of us in central Nebraska are pretty fortunate to have the growing quail numbers we've seen in the last decade. This chapter wants to make sure those bird numbers continue to improve and this is our way of giving back," said George Burgess, the new chapter's president, a Boelus resident, and a lifelong hunter. "Our chapter is also focused on making sure opportunities continue to exist for young hunters interested in taking up our outdoor traditions."
"Howard County is actually surrounded by Pheasants Forever chapters that have spent the last two decades doing tremendous projects for wildlife habitat," explained Pheasants Forever & Quail Forever's Regional Field Representative Scott Smathers. "There was a void in Howard County and these individuals saw the opportunity to join forces with fellow PF folks and help improve the land for quail at the same time."
QF was formed in 2005 by Pheasants Forever to help reverse the rapid decline of quail populations across their U.S. range. QF applies the unique and successful Pheasants Forever model of empowering local chapters with the responsibility to determine how 100% of their locally raised conservation funds will be spent. To date, four chapters of QF have joined the "cornhusker state's" 60 PF chapters.
"There is no doubt the state's 60 PF chapters have been creating the habitat necessary to help Nebraska's quail," explained Burgess. "Our new Central Nebraska QF Chapter's mission is to accelerate those efforts."
The new Central Nebraska Chapter of Quail Forever will hold Howard County's first ever QF banquet on Friday, November 20th at the Boelus Civic Center beginning at 5:30PM. The chapter is planning a hog roast for the dinner. Tickets for the event are $40.00 and are available by calling Pete Berthelsen at (308)754-5339, Ryan Lodge at (308)750-1215, or George Burgess at (308)390-0583.
Joining Burgess as new chapter officers and committee members are Gale Larson of St. Paul, Pete and Laura Berthelsen of Elba, Pamela Johansen of St. Paul, Ryan Lodge of St. Paul, Virginia Burgess of Boelus, Kraig Beck of Coatsfield, Keith and Christy Brus of Wolbach, and Jerry Woodgate of St. Paul. To learn more about helping the chapter, please contact Burgess at (308)390-0583 or via email at [email protected]
"One additional thing that's really neat about this chapter is the fact that four current and former Pheasants Forever and Quail Forever employees living in Howard County have volunteered their free time to be a part of this chapter," reported Smathers. "I'm truly honored to be servicing this chapter of co-workers who are spending their free time to continue the cause of conservation during their personal time."
To join a Quail Forever or Pheasants Forever chapter in Nebraska, learn more at www.NebraskaPF.com or call toll free 877.773.2070.