Shooting Preserve Owners Join Forces in new Tennessee Quail Forever Chapter
Chapter leaders excited to put QF's unique financial model to work in western Tennessee.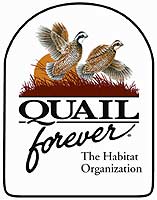 Decaturville, Tenn. –-(AmmoLand.com)- Two western Tennessee shooting preserve owners have joined forces to create the state's newest chapter of Quail Forever (QF). Jerry Lynn Phillips, owner of Turnbo Creek Shooting Preserve and Barry Stinnett, owner of Lakeview Shooting Preserve, volunteered their free time to organize the new Tennessee River Quail & Dove Chapter of QF.
"People want to bring quail back, but they don't know how. Through Quail Forever, we're able to provide that missing habitat expertise that's been lacking," explained Tim Caughran, QF regional wildlife biologist. "The leaders in this new chapter have an interest in bringing quail back, as well as a desire to foster the passion for quail hunting that will grow the next generation of quail hunters."
QF's unique financial model also appealed to the new chapter's volunteer leaders. QF applies the successful Pheasants Forever model of empowering local chapters with the responsibility to determine how 100% of their locally raised conservation funds will be spent. As a result, grassroots chapter volunteers are able to see the fruits of their efforts locally, while belonging to a larger national organization with a voice on federal and state conservation policy. Quail Forever and Pheasants Forever are the only national conservation organizations that operate through this truly grassroots structure.
In addition to Phillips serving as the new chapter's president, Stinnett has been elected treasurer, and Jeremy Vavouris has been elected youth & education chair. The new Tennessee River Quail & Dove QF Chapter plans to hold a quail hunt and banquet on Saturday, October 31st beginning at 1PM. The public is invited to attend. For more information about the event and the new Tennessee River Quail & Dove QF Chapter, please contact Phillips at (731)549-7568 or Stinnett at (731)206-0113.
Tennessee is home to four QF chapters. For more information on Quail Forever in Tennessee, to start a chapter or join one of the states existing chapters, contact QF at (866)457-8245 or via email at [email protected]