The Wilderness Produces New Dump and Game Pouch
Phoenix, AZ – -(TheTacticalWire)- The Wilderness has produced limited runs of dump pouches since the 1980s. Our new Dump and Game Pouch is the result of customer requests and the evolution of our original SlimLine Dump Pouch. Holding even more M16/AR-15 mags than the SlimLine version, the Game and Dump Pouch is better suited to the larger AK, HK or FN magazines than its smaller sibling. It also serves as an effective and handy game pouch for hunters. Its coated Cordura can be thoroughly rinsed with a mixture of water and bleach to decontaminate the bag when necessary.
Still taking up less than 3″ of belt space, it leaves you room for our pistol or rifle mag pouches, or other belt-mounted accessories. Our signature wraparound belt loop allows it to be easily put on or removed without taking off the belt*.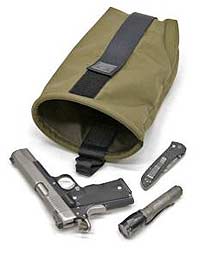 The reinforced mouth holds the pouch open for easy access. A Velcro-secured tab secures inside the pouch body when in the open position, and can be secured on the outside of the pouch to close the mouth and keep the contents from falling out. It also allows the body to be secured while rolled up and compacted. A handy carabiner loop is provided at the top of the belt loop, allowing more attachment options to gear or equipment.
Dimensions: 14″ deep, mouth diameter approx. 6-1/2″, body approx. 6-1/2″ width x 4″ depth
Compare to our Slimline Dump Pouch at 11″ deep, mouth diameter approx. 5-1/2″, body approx. 5-1/2″ width x 3-1/4″ depth
Fits up to 2-1/4″ military web belts. 1000D Cordura construction. Available in black, OD, Multicam and coyote.
*A 2″ drop adapter for operators using body armor that covers the belt will be available soon.
For more information, see https://www.thewilderness.com.