Arizona Game And Fish Announces Drawing Results For Spring Hunts
Remaining tags available first-come, first-serve by mail or in person.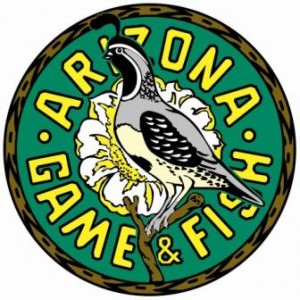 PHOENIX, AZ –-(AmmoLand.com)- The more than 35,000 hunters who applied for a tag to hunt spring turkey, javelina, buffalo or bear in 2010 can find out if they were drawn by visiting the Arizona Game and Fish Department's Web site at www.azgfd.gov/draw or by calling (602) 942-3000 (option 2).
Game and Fish officials said that hunt permit-tags will be mailed out to successful applicants no later than Dec. 4. Unsuccessful or rejected applicants will have their refund mailed out by Nov. 27.
There are plenty of remaining tags available on a first-come, first-serve basis for those individuals who forgot to submit an application or were unsuccessful in the 2010 spring drawing. Remaining tags include more than 10,000 javelina tags (328 juniors-only), nearly 200 turkey tags, and just over 70 tags for archery-only bear hunts. For a detailed listing of leftover permits, visit www.azgfd.gov/draw or call (623) 236-7702.
There are now two systems to obtain a leftover tag. Paper applications will be accepted by mail only starting on Monday, Nov. 30 at 8 a.m. (MST). However, beginning on Monday, Dec. 7 at 8 a.m. (MST), hunters can also obtain a leftover tag in person (over-the-counter) from any of the seven Arizona Game and Fish Department offices. A list of office locations is available at www.azgfd.gov/offices.
For those who qualify, there are military hunts available. For additional information on Camp Navajo, call (928) 773-3306 and Fort Huachuca call (520) 533-2549.
Juniors-only hunts
Youngsters interested in hunting have many choices and special seasons that are only open to kids. These hunts offer an outdoor family experience and a memory of a lifetime.
There are more than 300 juniors-only spring javelina tags remaining from the draw for $22.50 (by mail or from department offices only). Juniors-only spring turkey hunts (shotgun shooting shot) are available over-the-counter from any license dealer or department office for just $10. A unique December hunt for sandhill cranes still has several tags (good for three birds) available for $22.50 (by application sent via U.S. mail only).
Both javelina and turkey are big game animals and the minimum age to hunt them is 10 years old. Kids age 10 to 13 must complete an Arizona certified hunter education course to hunt big game which includes turkey and javelina.
The anticipated drawing deadline to apply for a 2010 pronghorn antelope and elk tag is the second Tuesday in February 2010. Winter drawing information and regulations should be available on the department's web site, www.azgfd.gov, by mid to late December 2009.
Sidebar:
With small game season in full swing, now is a great time to get out in the field and do some hunting and scouting for your upcoming hunt. Most of the habitat that javelina occupy is also good habitat for quail (Gambel's, scaled and Mearns'), cottontail rabbits, jackrabbits, dove, squirrel and even ducks. Not to mention, all of these species make great table fare when cared for properly.
Other great hunting opportunities
Young hunters can hone many of the same skills needed to hunt javelina when pursuing rabbits and squirrels with a .22 rifle including, using their binoculars to discover game, identifying habitat, stalking, marksmanship, and proper field care for dressing harvested game.
Small game season offers big fun, with plenty of pursuits and long seasons, including:
Year-round – cottontail rabbits and jackrabbits
Oct. 2, 2009 – Feb. 7, 2010 – Gambel's and scaled quail
Oct. 2 – Dec. 31, 2009 – Squirrel season
Oct. 9/23, 2009 – Jan 17/31, 2010 – Waterfowl season (mountain/desert zones)
Nov. 20 2009 – Jan. 3, 2010 – Dove season
Nov. 27, 2009 – Feb. 7, 2010 – Mearns' quail
To learn more about the fun hunting small game, including events, tips and outlooks, visit www.azgfd.gov/h_f/small_game.shtml.
Note:
Hunting and fishing continues to be the cornerstone and a primary source of funding for wildlife management and conservation in North America. In Arizona alone, more than 418,000 hunters and anglers spend $3.8 million a day, or $1.3 billion per year, participating in these activities to the benefit of local economies. Regardless of whether one chooses to actively participate in hunting or angling, people interested in wildlife and its future should understand the role sportsmen play in conservation.
About:
The Arizona Game and Fish Department prohibits discrimination on the basis of race, color, sex, national origin, age, or disability in its programs and activities. If anyone believes that they have been discriminated against in any of the AGFD's programs or activities, including employment practices, they may file a complaint with the Deputy Director, 5000 W. Carefree Highway, Phoenix, AZ 85086-5000, (602) 942-3000, or with the Fish and Wildlife Service, 4040 N. Fairfax Dr. Ste. 130, Arlington, VA 22203. Persons with a disability may request a reasonable accommodation or this document in an alternative format by contacting the Deputy Director as listed above.