Benchmade Knife Company and H&K USA Continue Partnership; Announce New Products
OREGON CITY, Ore.--(AmmoLand.com)- Executives of Benchmade Knife Company and Heckler & Koch USA are pleased to announce the continuation of their licensing partnership and the launch of a series of new products.
"HK is a strong brand with a tremendous following. We are proud to be associated with such a great company" says Greg Mooney, President of Benchmade.
Wayne Weber, President of Heckler & Koch USA comments, "Benchmade's commitment to quality and innovation is a perfect match for the HK brand."
Several new models of HK Knives are now entering the marketplace. These knives incorporate a variety of different mechanisms, materials, and price points.
The following models are now available:
14800 Tumult™
14650 P30™
14301/14351 Ascender™ Tanto
14302/14352 Ascender™ Drop Point
14440SB-Combo (includes folding knife, multi-tool, and LED light)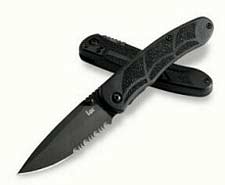 Background:
For over half a century, Heckler and Koch has been a leading designer and manufacturer of military, law enforcement and civilian firearms. HK's reputation for quality, innovation, and safety make them a recognized leader in technologically advanced products.
This dedication to innovation continues with HK Knives. Created and manufactured by Benchmade Knife Company, these superior edged tools combine leading technology with artful and practical design. Patented functional technologies like the AXIS locking mechanism, push-button autos with an integrated safety and the lightning fast Nitrous assist opener are deployed throughout the product line. Plus, manufacturing processes adhering to tolerances usually reserved for the aerospace industry provide a go-together fit and finish.
Our customers live the HK motto on a daily basis-No Compromise. We consider it a fundamental obligation to deliver the best possible products to those we support, whether they are military forces defending our rights and freedom or law enforcement professionals maintaining order. You have our commitment that we will continuously pursue quality, innovation and performance in all of the products we offer.