Henry Repeating Arms is proud to announce the release of the Henry Golden Boy "Military Service" Tribute Edition.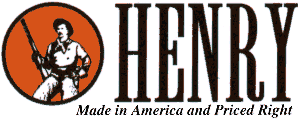 Brooklyn, NY –-(AmmoLand.com)- From the beaches of Normandy, the snowfall of Korea and the jungles of Vietnam to the sands of Iraq and the mountains of Afghanistan, America's servicemen and servicewomen have led the charge in the fight to preserve freedom around the world.
To honor those heroic marines, soldiers, sailors and airmen who sacrificed their lives in service to our country and to show our appreciation to all who answer the call of duty to preserve our liberty, we are proud to offer this commemorative Henry Golden Boy "Military Service" Tribute Edition of our legendary Golden Boy rifle.
Since the Civil War it has been an enduring American tradition to present ornately engraved Henry rifles to servicemen as a token of gratitude for their sacrifices. The Henry Golden Boy
"Military Service" Tribute Edition is ideal for continuing that time-honored practice. Proudly crafted in America, this heirloom-quality rifle has a polished nickel-plated receiver adorned with deeply etched, patriotically themed scrollwork. The right side features intricate scrollwork and the American bald eagle as well as a shield bearing the inscription "In Recognition of Military Service to Our Great Country."
Henry Rifles Henry Golden Boy 'Military Service' Tribute Edition Rifle
Henry Rifles Golden Boy 'Military Service' Tribute Edition RifleThe left side showcases two enduring symbols of American freedom: The Statue of Liberty and The Liberty Bell. The images on both sides, as well as the laurel leaf border, are selectively plated with 24-karat gold.
Five stars representing the five branches of service are cut into each side of the receiver separating the front and rear panels.The Stars and Stripes and a golden banner with the words "God Bless America" are laser etched into the American walnut stock and hand painted in brilliant red, white and blue.
The seals of the United States Army, Navy, Air Force, Marine Corps and Coast Guard are inscribed into the right side of the forearm and hand painted with gold fill. If you know of a serviceman or woman who has just returned from overseas, or one who served in a past conflict, honor them with one of these limited-edition rifles.
A portion of the proceeds from the sale of each Henry Golden Boy "Military Service" Tribute Edition will be donated to the The American Legion, the Veterans of Foreign Wars, the Wounded Warrior Project and the Fisher House for military families.
Whether purchasing to present to those who have served, or for use in any fund raising effort, or simply to own and proudly display this beautiful and historic collectible, you will be making a contribution to America's most worthwhile veterans' organizations.
The Henry Golden Boy "Military Service" Tribute rifle is only available through authorized Henry dealers.
To find a dealer in your area visit our Henry Rifles Dealer Search Page. For a copy of the Henry Repeating Arms catalog and a printout of a list of dealers in your area, please visit henryrifles.com or call toll free 866-200-2364.
Related Henry Rifles Article:
About Henry Repeating Arms
Henry Repeating Arms is one of the country's leading rifle manufacturers. Their legendary name dates back to 1860 when Benjamin Tyler Henry invented and patented the first practical repeating rifle during the Civil War. It became known as the "gun you could load on Sunday and shoot all week long." Henry rifles went on to play a significant role in the frontier days of the American West and soon became one of the most legendary, respected and sought after rifles in the history of firearms. President Lincoln's Henry hangs in The Smithsonian and has become a national treasure. The company's primary manufacturing facility is in Bayonne, New Jersey and they have a second facility in Rice Lake, Wisconsin. https://www.henryrifles.com