New Jersey Six-Day Firearm Deer Season Opens Dec. 7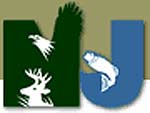 Trenton, NJ –-(AmmoLand.com)- The NJ DEP Division of Fish and Wildlife is reminding hunters that the Six-day Firearm Deer Season opens one-half hour before sunrise on Monday, December 7. This state-wide season allows licensed hunters to harvest two antlered deer.
New this year will be legal use of a bow (recurve, compound or crossbow) during the Six-day Firearm Season.
Hunters wishing to use a bow must have both a firearm and, archery license in possession, or an All-around License.
Antlered deer taken during the Six-day Firearm Season with a bow must be tagged with the Six-day Firearm Season Transportation Tag.
For more information on the upcoming season visit http://www.njfishandwildlife.com/news/2009/sixday09.htm on the division's website.