Remington Wingmaster HD Shot Shells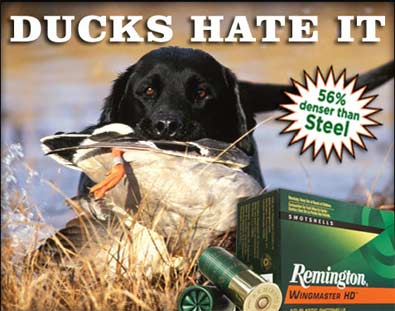 Madison, NC –-(AmmoLand.com)- Seriously stretch your killzone this season and reach for Wingmaster HD®.
Absolutely no shotshell on the market can touch Wingmaster HD at long range.
All of its revolutionary characteristics – Tungsten-Bronze shot is 56% denser than steel, The ultimate extended-range payload,
The most devastating, high density patterns, Wetproof™ steel primers and mouth assures performance in harsh, wet conditions – come together on game with an unmatched level of deadly force. Now at its lowest price ever.
Listen to radio spots playing in your area on the Wingmaster HD Product Page
About Remington Arms Company, Inc.
Remington Arms Company, Inc., headquartered in Madison, N.C., designs, produces and sells sporting goods products for the hunting and shooting sports markets, as well as solutions to the military, government and law enforcement markets. Founded in 1816 in upstate New York, the Company is one of the nation's oldest continuously operating manufacturers. Remington is the only U.S. manufacturer of both firearms and ammunition products and one of the largest domestic producers of shotguns and rifles. The Company distributes its products throughout the U.S. and in over 65 foreign countries. More information about the Company can be found at www.remington.com.