Sig Sauer Welcomes Governor Lynch To Exeter NH Facility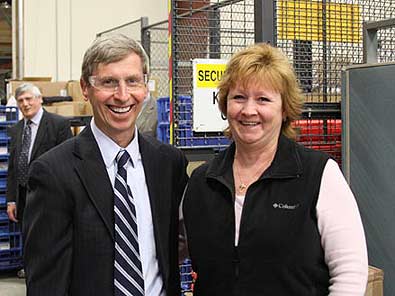 EXETER, NH –-(AmmoLand.com)- SIG SAUER, a leader in manufacturing military, law enforcement and commercial firearms, welcomed New Hampshire Governor, John Lynch, to its Exeter, New Hampshire facility on November 13, 2009.
SIG SAUER Vice President and General Counsel, Steven Shawver, Vice President of International Sales, Peter Kujawksi, and former Congressman for the U.S. House of Representatives, Bill Zeliff, provided a tour of the expanding facility and a preview of new products currently under development for military and law enforcement customers.
The SIG SAUER facility, now undergoing additional expansion, has been increasing manufacturing and research and development capabilities over the past several years, due largely to an overwhelming demand for SIG SAUER products by federal, state, and local agencies, as well as the U.S. military and militaries around the world.
"We are fortunate to have an industry leader like SIG SAUER here in New Hampshire. It is a great New Hampshire company and an important employer for the region," Gov. Lynch said. "I will continue to work to foster our state's business-friendly environment so that companies like SIG SAUER can continue to grow."
"We have increased our New Hampshire employee base significantly in the last twelve months, at least by 25 percent," commented SIG SAUER's CEO, Ron Cohen.

"Unlike many manufacturers in our industry, SIG SAUER is dedicated to in-sourcing our capabilities in both manufacturing and manpower, rather than the current trend of out-sourcing both to other countries. SIG SAUER has achieved a leading market share position due to the strict quality control and customer service our New Hampshire employees provide."
About SIG SAUER, Inc.
SIG SAUER, Inc. is the largest member of a worldwide business group of firearms manufacturers that includes J.P. Sauer & Sohn and Blaser GmbH in Germany and Swiss Arms AG in Switzerland. This global network of companies gives SIG SAUER a world-class firearms knowledge base, unparalleled design expertise, and extensive manufacturing capacity, enabling the company to respond quickly and effectively to changing market conditions and the needs of its military, law enforcement, and commercial markets worldwide. SIG SAUER is an ISO 9001: 2000 certified company with over 385 employees. For more information on SIG SAUER or any of its products, or the SIG SAUER Academy, log on to www.sigsauer.com.