New Tri-County Group Becomes 15th Quail Forever Chapter in Illinois
Chapter plans to improve quail habitat while introducing youngsters to the outdoors.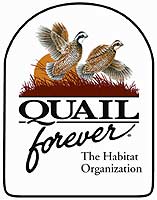 Pana, Ill. – -(AmmoLand.com)- On Monday evening, three dozen quail enthusiasts formed the nation's newest chapter of Quail Forever (QF).
The new Tri-County Chapter of QF plans to focus their efforts on the improvement of quail habitat in Montgomery, Shelby and Christian counties. Chapter leaders also discussed their goals for introducing area youngsters to the outdoors, conservation, and bird hunting.
"If I don't volunteer my time on behalf of the next generation of quail hunters, who is going to do it for me?" questioned Brad Storm, the new chapter's president and lifelong bird hunter. "As a chapter of Quail Forever, we have a financial model that puts control of our fundraising dollars in our hands. We also have Quail Forever's staffing support in the form of grant writing, accounting, and insurance that allows us to focus our efforts on the habitat and youth education missions important to why we're volunteering in the first place."
Quail Forever was founded by Pheasants Forever in 2005 to address the nation's quail population decline. QF applies the successful Pheasants Forever model of empowering local chapters with the responsibility to determine how 100% of their locally raised conservation funds will be spent. As a result, the organization's 125,000 members and more than 700 chapters see the fruits of their conservation efforts in their own communities, while belonging to a national organization with a broader voice in Washington, D.C. on federal conservation policy.
Storm, a farmer from Lakewood, has already seen Quail Forever's national efforts first hand.
"I have 300 acres of CRP enrolled on my farm. I pretty much have every CRP practice represented including the bobwhite buffers practice [CP 33], and I know Quail Forever is working hard every day in Washington, D.C. to make sure CRP is viable for me as a farmer and as a bird hunter."
"I'm very excited about the lofty goals of this new Tri-County Quail Forever Chapter," explained Tim Caughran, Quail Forever's regional wildlife biologist for southern Illinois. "This year alone, the chapter plans to hold six hunter safety courses, two wing-shooting clinics and a youth hunt. They are also aggressive in their habitat goals and engaged in conservation policy. As a Shelbyville native, I'm thrilled to call this group of dedicated volunteers my 'home' chapter."
In addition to Storm serving as the chapter's president, Rick Wallace of Strasburg will serve as Treasurer and Alan Justice of Sherman will serve as the chapter's Youth & Education Chair.
The Tri-County QF Chapter's next meeting is scheduled for Monday, January 25th at 7p.m. The meeting will be held at the Eagles Club in Pana, Illinois. The public and media are encouraged to attend. For more information about the meeting and the new chapter, please contact Brad Storm at (217)343-2136 or via email at [email protected]
To learn more about joining or starting a Quail Forever chapter in Illinois, contact Tim Caughran at (618)467-2586 or via email at [email protected]
About:
Pheasants Forever (PF) launched Quail Forever in August of 2005 to address the continuing loss of habitat suitable for quail and the subsequent quail population decline. QF chapters promote local, state, and federal conservation programs that help landowners protect environmentally sensitive acres for quail and other wildlife. They also employ the organization's unique model of empowering local chapters with 100 percent control of the chapters' locally-raised funds to complete habitat and youth education projects in the chapters' own communities.
Since the organization's inception, over 110 QF chapters have formed in 25 different states. The QF mission is accomplished through habitat improvement, land management, public awareness, education, and conservation advocacy.
For additional information about Quail Forever, please visit www.QuailForever.org