GunVault Announces Launch of New Web Site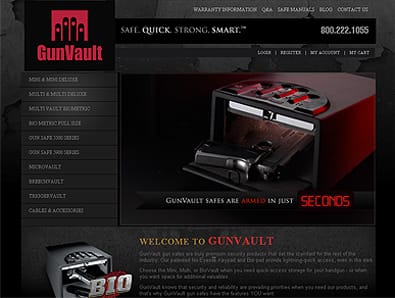 San Bernardino, Calif. –-(AmmoLand.com)- GunVault announces its all-new Web site, www.GunVault.com, featuring a new, fresh design, socially connected capabilities and interactive product information.
The new GunVault.com was designed to allow users to navigate through the site quickly and find detailed product information through video demonstrations, the new GunVault blog and much more.
"We've developed and launched this Web site with new and exciting customer requested features," said Mike Baker, president of GunVault.

"The new Web site is much more than product specs, it's a space where visitors can become involved with the GunVault brand. Users can watch detailed product videos, read about the latest GunVault news and even share stories about their favorite GunVault products."
Features of the new GunVault.com include:
New, Fresh Design: The new design is clean and user-friendly. Visitors can easily find the information they need, from detailed product specifications, to frequently asked questions, to online ordering information.
Socially Connected: The Web site features the new GunVault blog where consumers can stay updated on the latest GunVault news, read testimonials from GunVault owners and get great product tips from GunVault employees and industry leaders. Users can also connect with GunVault on facebook and Twitter.
Interactive Product Information: Video clips introducing each product are available for viewing as well as video demonstrations of easy solutions for technical support issues.
E-newsletter: For the latest news and exclusive offers visitors of the new GunVault.com can sign up to receive the GunVault e-newsletter.
For additional information about GunVault and its complete line of premium security products, visit www.gunvault.com.