Kahr Arms Introduces Two New Models in the PM Handgun Series
Lasers now available on Kahr's most popular handguns.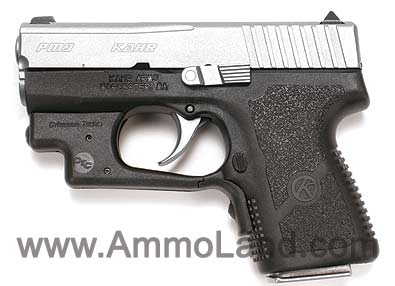 PEARL RIVER, NY –-(AmmoLand.com)- Kahr Arms is proud to introduce two new models in their popular PM Series. The PM9 and the PM40 are now available with Crimson Trace Laserguards directly from the factory.
The PM9093L and PM4043L will come with the newly released Crimson Trace Laserguard (LG-437). The Laserguard design is the most compact, instinctively activated, user-adjustable laser sighting system on the market today. Your PM9093L or PM4043L comes complete with allen wrench for adjustment, sight cleaners, batteries, and Crimson Trace decal.
The Model LG-437 uses either two #357 silver oxide batteries or a single 1/3N 3-volt lithium battery. These small batteries allow the Laserguard to be unobtrusive yet powerful enough to provide the brightness. The LG-437 uses the smaller 3.3mm diameter laser diode, which reduces the overall size of the laser diode housing.
The LG-437 has both windage and elevation adjustments for shooters to adjust the laser for a perfect hit at any distance.
The PM9093L has a 3″ barrel with Lothar Walther match grade polygonal rifling and 1-10 right-hand twist. Its MSRP is $991.00.
The PM4043L, with a 3″ barrel, Lothar Walther match grade polygonal rifling and 1-16 right hand twist, also has an MSRP of $991.00.
Laserguards are made in the United States of America. Crimson Trace is the world's only manufacturer of grip-integrated laser sighting systems. Police, all branches of the U.S. Military and responsible citizens worldwide use patented Crimson Trace products.
Visit www.kahr.com to learn more about the PM9093L, PM4043L and other Kahr products, or contact Monica Arnold -Blue August at [email protected]