Millennium Tree Stands Go Green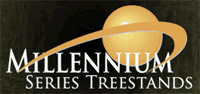 Pearl, Mississippi – -(AmmoLand.com)- The designers at Millennium Tree Stands listen to their customers, and one thing the customers said they wanted was a color change in the tree stand seats.
From black to green was their desire, and Millennium is honoring that request by changing the color of all of its seating. The new green seating will be featured in all models of stands and will increase the stands' degree of invisibility afield even more.
Although the color is changing the comfort is not. Millennium Stands have long been recognized as the most comfortable stands on the market. From Texas to Alberta and South Carolina to Idaho, outfitters and guides know the best way to increase your chances in seeing a trophy animal is to sit in a prime location from sun up until sun down, and you'll have no problem doing that thanks to Millennium's one-piece sling seat design. The seat keeps you comfortable and quiet for as long as you want to hunt. The seats are made with Textiline, a non-stretch fabric, so they don't absorb water and are quiet to the touch.
The new green seating will be featured on the 20ft Ladder Stand, the 17-Foot Double Ladder Stand, the M-1 Millennium™ Climbing Stand, the M-100 Multi-System Hang-On Stand and the Millennium Ground Seat™.
For more info on these and other products, check out www.millenniumstands.com.
About:
Hunting Solutions was founded in 1999 our mission is to provide hunters with safe, high quality products at a fair price. Hunting Solutions is dedicated to quality design and workmanship that can be seen in all our products. This is how we are able to offer an unlimited lifetime warranty.