Mule Deer Foundation Puts $1.5 Million On The Ground For Mule Deer In 2009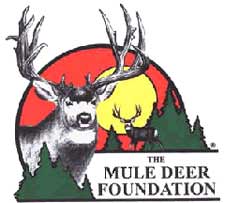 SALT LAKE CITY, Utah –-(AmmoLand.com)- Mule Deer Foundation President and CEO Miles Moretti announced today that MDF has once again put over $1.5 million dollars on the ground in 2009 to enhance and conserve mule deer and black-tailed deer habitat throughout the western United States.
The money was raised through the sale of state wildlife auction and raffle tags, local fundraising banquets, along with corporate and private donations. Despite the economic downturn, MDF has been able to exceed project funding goals for 2009.
Projects funded vary from water developments and habitat improvement projects to the purchase of land to be conserved for mule deer and other wildlife.
Moretti said, "The number one goal I had for MDF when I took over the reins in 2006 was to increase MDF's presence in funding habitat projects for mule deer. We have worked with State and Federal agencies, other conservation groups and private landowners to make that happen."
In 2009, several projects highlight the organization's commitment to funding projects that make a difference. MDF, in partnership with the Utah Division of Wildlife Resources, purchased the Allan Smith Property in Eastern Utah. The purchase of these 5,700 acres protects a critical migration corridor between summer and winter range for mule deer and elk. The property also contributes critical winter habitat for mule deer, elk and sage grouse.
MDF also partnered with Pheasants Forever to purchase 1,000 acres adjacent to the Beckman Wildlife Management Area in Central Montana. This piece of property is a key component that connects land owned by Montana FWP, Block Management land and Department of Natural Resources and Conservation land. Together, these properties total over 15,000 contiguous acres of incredible wildlife habitat, and they also provide ample opportunity for outdoor recreation and hunting.
MDF's Chapter Rewards Program has also contributed to funding of on-the-ground projects. This program enables chapters to keep a percentage of money raised at the local level for projects in their area. In 2009, MDF chapters funded 72 projects utilizing over $200,000 from the Chapter Rewards Program. The Central Wyoming Chapter in Casper, Wyo., contributed over $42,000 to the Bates Creek Watershed Restoration Project in Central Wyoming. The project involves prescribed burns and mechanical treatment of Aspen to restore a viable aspen community and improve the watershed. The multi-year endeavor has treated over 6,000 acres of aspen to date.
Other projects funded by MDF will be highlighted at the 10th Annual Mule Deer Foundation Convention which will be part of the Western Hunting and Conservation Expo (WHCE) in Salt Lake City, Utah, Feb. 11-14, 2010. Over the past three years, the WHCE has raised over $20 million dollars for wildlife. For details about the Fourth Annual WHCE, go to www.huntexpo.com.
Visit MDF's Web site (www.muledeer.org) to learn more about projects funded in your state.
About MDF (www.muledeer.org)
The Mule Deer Foundation is a national non-profit 501(c)3 organization, with over 14,000 members. MDF's mission is to ensure the conservation of mule deer, black-tailed deer and their habitats. MDF is dedicated to restoring, improving and protecting mule deer habitat (including land and easement acquisitions) resulting in self-sustaining, healthy, free ranging and huntable deer populations; encouraging and supporting responsible wildlife management with government agencies, private organizations and landowners; promoting public education and scientific research related to mule deer and wildlife management; supporting and encouraging responsible and ethical behavior and awareness of issues among those whose actions affect mule deer; and acknowledging regulated hunting as a viable component of mule deer and black-tailed deer conservation.