Muzzy To Present 2009 Tall Man Award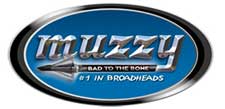 Cartersville, GA – -(AmmoLand.com)- Each year Muzzy Products Corporation bestows its prestigious Tall Man Award to someone who "stands tall" among his or her peers by contributing to the community and going above and beyond to promote and protect the future of archery and bowhunting.
This year Muzzy is proud to present the award to Jay McAninch, chief executive officer/president of the Archery Trade Association (ATA), at the 2010 ATA show in Columbus, Ohio, on January 14 at 10 a.m.
The ATA has promoted archery and bowhunting throughout the country since 1953, and McAninch has held his position with the organization since 2000.
"I am extremely honored to receive this award," McAninch says. "The list of previous Tall Man recipients includes people that I admire. I'm especially humbled that the award is presented by Michele and her family who have worked so hard to make Muzzy a highly respected company and a longstanding influence on archery and the industry."
Since becoming president of the ATA, McAninch has steered the ATA toward establishing a solid foundation and process for growing the sports of archery and bowhunting.
"We decided to focus all dollars on state wildlife agencies to put staff in place and to help build programs and facilities for promoting archery and bowhunting throughout the country."
With McAninch's guidance, the ATA's efforts have produced a superb outcome. State agencies are now supporting organizations such as the National Archery in the Schools Program (NASP) and the Explore Bowhunting Program, which work to bring archery into the communities.
"We are working toward a future where kids in urban communities will have the same opportunity to participate in archery as they do to play football, baseball, basketball, gymnastics and other sports."
In appreciation for all of McAninch's contributions to the world of archery, Muzzy congratulates him on being selected as the 2009 Tall Man Award recipient.
For more information on Muzzy Products, call 1-866-387-9307, or check out www.muzzy.com.
About:
At Muzzy t's about attitude. Some are hunters and some are gatherers. We are hunters. Hunting is one of man's most basic instincts. It is at the core of our being. Undeniable. Some learn to gather, but we were born to hunt. The first tools of early man were the spear, not the hoe. It's about understanding nature, the world as it is, and our place in that world. And it's about acceptance. Accepting the natural challenge of taking a wild animal on its own turf using intelligence, some sharp tools and little else. We accept it because are are more than hunters, we are bowhunters. Different. A breed apart. An elite cadre of the hunting world with the drive to test our skills in nature's own arena. It is who we are. And we are bad to the bone.