Muzzy Introduces The New 85-Grain Phantom-Mx Broadhead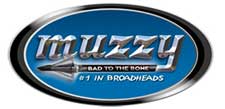 Cartersville, GA – -(AmmoLand.com)- Muzzy built the compact and aerodynamic 100-grain Phantom-MX for hunters wanting a traditional style with superior penetration, and it delivered.
Now, Muzzy has designed a lighter, faster broadhead option — the new 85-grain Phantom-MX, which features the same unbeatable and superior flight as its larger relative.
With unfailing accuracy, the 85-grain, 2-blade Phantom-MX consistently packs a deadly punch no matter the conditions.
The ultra-tough .040″ thick blade with its 1 1/8″ cutting diameter cuts instantly on impact to drive deep through thick skin and bone getting the job done.
The blade is easily re-sharpened as desired.
For more information on Muzzy products, call 1-866-387-9307, or
check out www.muzzy.com.
About:
At Muzzy t's about attitude. Some are hunters and some are gatherers. We are hunters. Hunting is one of man's most basic instincts. It is at the core of our being. Undeniable. Some learn to gather, but we were born to hunt. The first tools of early man were the spear, not the hoe. It's about understanding nature, the world as it is, and our place in that world. And it's about acceptance. Accepting the natural challenge of taking a wild animal on its own turf using intelligence, some sharp tools and little else. We accept it because are are more than hunters, we are bowhunters. Different. A breed apart. An elite cadre of the hunting world with the drive to test our skills in nature's own arena. It is who we are. And we are bad to the bone.